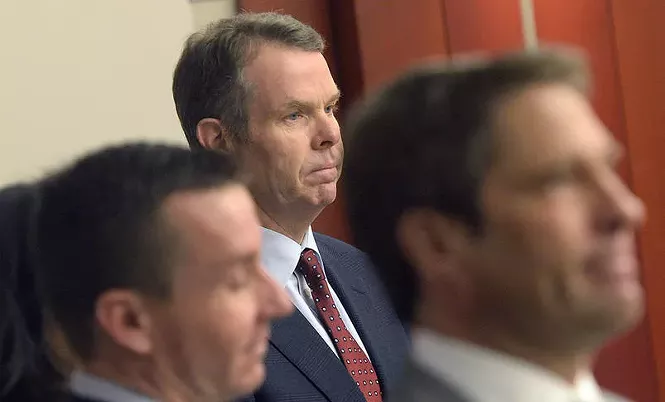 "There's only one man on trial today—John Swallow, correct?" asked defense attorney Cara Tangaro, one of three lawyers representing the former AG.
This pointed question to a FBI forensic analyst came Tuesday afternoon on the second week of a trial where prosecutors continue to draw lines around Swallow, rather than connecting him to particular crimes and questionable behavior. The analyst admitted that no money went from Jenson to Swallow.
In fact, barring several massages, two round-trip airline tickets and a few nights during two trips to Pelican Hill, analyst Heidi Ransdell acknowledged that very few of the receipts relating to the trips could be directly linked to Swallow.
Instead, it was former AG Mark Shurtleff and, according to witnesses, his self-described "corporate fixer" Tim Lawson, who were the focus of much of the testimony.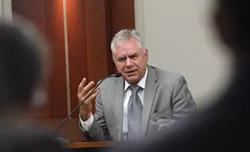 Al Hartmann
Paul Nelson
Paul Nelson, friend and former security consultant to star prosecution witness Marc Jenson, finished his testimony, telling the court that he felt Shurtleff was scamming Jenson.
Jenson's former personal assistant and accountant Peter Torres then took the stand, relaying how Lawson would repeatedly ask Torres for money from Jenson to ensure access to Shurtleff.
Torres testified that Lawson asked for payments dozens of times from 2007, one of those payments being for a piano. It wasn't uncommon, he told the jury, for Lawson to freely show his anger and frustration with Torres and Jenson over not getting money he expected to receive.
In total, an FBI analyst testified Tuesday, Jenson paid Utah County political operative Lawson over $134,000. Lawson died late summer 2016.
As to links between Jenson and Swallow, Torres noted Swallow's name and phone number on a list of people who could be references for Jenson. Jenson gave the list to potential business contacts so they could seek explanations as to the situation with his 2005 criminal charges and plea in abeyance. Nevertheless, Torres said that Lawson "was not a conduit to John Swallow."
The morning concluded with brief and specific testimony from Jenson's attorney Helen Redd, a longtime family friend of the onetime developer and Holladay neighbor. She recounted a late 2000's phone call she received from a number belonging to Jenson. When she answered, she found the caller was another Mark, namely then-AG Shurtleff. Shurtleff advised her that he had learned from Jenson she was the person to go for help with fundraising in Holladay for his short-lived Senate campaign.
In the afternoon, prosecutor Fred Burmeister took FBI financial forensic analyst Ransdell through Pelican Hill statements of expenditures titled, for example, "café/cart," and tracking Jenson money that paid for airline tickets to Orange County—the location of 5-star resort—for Lawson, Shurtleff and Swallow on two key trips during May and June, 2007.
Defense attorney Tangaro highlighted how very few of the receipts—bare a few massages— specifically showed Swallow consuming goods and services on Jenson's dime.
She went through items such as Grey Goose vodka, filet mignon ($30 a pop) and pasta ($16) on the receipts. "We can't assume any of that stuff goes to John Swallow except that massage, right?" she asked. Ransdell said that was correct.
Burmeister returned to receipts reviewed from prior hearings that showed Swallow's initials on items including crab salads and a Nike hat that Jenson apparently paid for.