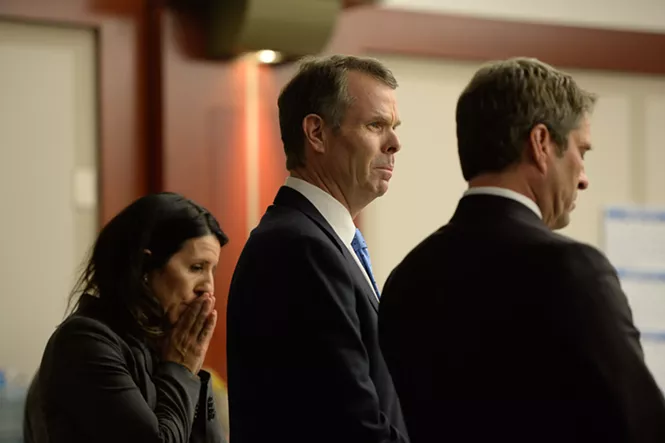 Francisco Kjolseth
Swallow reacts to being cleared on all accounts on Thursday, March 2.
Muted sobs came from the gallery behind a remarkably steady John Swallow Thursday night as nine "not guilty" verdicts were pronounced aloud.
After the jury—the panel that sat for nearly four weeks hearing his case—was excused, however, emotions poured out from the Swallow family, who wept huddled on a courtroom bench. The trial's conclusion means the former attorney general is spared from the compendium of corruption felonies that hung around his neck for the past two-and-a-half years, and that his name is cleared.
"I'm speechless," Swallow said outside the courtroom to a scrum of cameras and microphones. "I'm just so grateful. The system did work. And I'm grateful for my lawyers, grateful for my family and grateful for our state."
Scott Williams, the lead defense counsel, who called the trial "nerve-wracking," confirmed that taxpayers could be on the hook for legal fees but added that wasn't a priority at the moment.
Now that it's over, the ordeal can serve as a learning experience. It will for Swallow, anyway. At one time the state's top prosecutor, he said standing in a defendant's shoes was "a real education."
What did the prosecution team glean from the experience? Who knows. They declined to comment after the trial.
The defense also learned that you can lose a battle but win the war.
A seemingly minor jury instruction snafu put the case in jeopardy early Thursday morning. With nine remaining counts, jurors mistakenly deliberated one of the four dismissed charges; the one that accused Swallow of money laundering. Worried that the mix-up would confuse the jury to considering a money laundering allegation that wasn't supported at trial, Swallow's defense attorneys moved for a mistrial.
Judge Elizabeth Hruby-Mills denied the motion, however, after a curative instruction was offered to the jury.
"The court finds that the error in context of the trial, closing arguments, and the jury instruction as a whole, to be de minimis," i.e. trifling, she wrote.
Williams said after the trial, in hindsight, he was relieved the judge didn't side with the defense on that matter.
Two of the eight Salt Lake City jurors spoke after the trial. Both women described it as a careful process. The high evidentiary standard, they said, was not met beyond a reasonable doubt and they couldn't convict on any of the allegations, which alleged Swallow was part of a pay-to-play corruption enterprise run by former AG Mark Shurtleff.
The Swallow-Shurtleff connection is rooted in political money. Swallow was a chief fundraiser for Shurtleff's budding senate campaign, and he was at one time employed by embattled tycoon Marc Jenson on Shurtleff's request. In witness statements, Jenson said Shurtleff convinced him to hire Swallow, who was in need of a lucrative job. The payoff, Jenson expected, would come later when Swallow ran the AG's office.
Years before he ran for the position, Swallow told associates that he would one day occupy the attorney general's office, according to trial testimony. Late 2009, Swallow was hired on as chief civil deputy. Within a few years, Swallow was on the campaign trail that would land him in the top cop position.
Almost immediately, however, claims of corruption trickled out, sparking overlapping investigations from the feds, a Utah House committee and the lieutenant governor's office.
A year after the election, mired in corruption accusations, Swallow stepped down from his post. Maintaining his innocence, he said the toll was too much for his family.
The FBI continued to investigate, but federal prosecutors eventually declined to file charges.
In July 2014, Swallow and Shurtleff were arrested. They faced a host of corruption-related state criminal charges that alleged a pattern of misconduct, bribery, extortion, evidence tampering, obstruction of justice and misuse of tax money. The fallen public officials starred in the marquee political scandal unlike any other seen in this state.
Swallow was accused of taking money from Jenson and convicted businessman Jeremy Johnson in exchange for political favors. He was also accused of taking an in-kind campaign contribution from Timothy Bell, and then later fudging his disclosure reports. Finally, the DA charged Swallow with lying to investigators.
Davis County Attorney Troy Rawlings dropped charges against Shurtleff on grounds, in part, that federal investigators refused to share evidence.
Swallow's trial kicked off Tuesday, Feb. 7 with jury selection. Last week when Swallow's defense team indicated it would not call Shurtleff as a witness, he told reporters outside the courtroom that he might consider filing a civil suit against the investigators, for what he calls blatant misconduct.
What was once framed as a corruption by the attorneys general has raised questions from the accused about the ethics of investigators.
"I thought I saw an abuse of power," Williams said when asked why he took on Swallow's case. "That's why I do what I do."