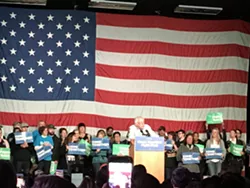 DW Harris
Sanders addressing the SLC crowd on Friday.
The independent senator from Vermont and former candidate for the Democratic presidential nomination stirred a Salt Lake City audience of thousands Friday, in a display that felt similar to his Utah stop along the campaign trail in 2016, and throughout his candidacy.
Lest you think that the 2016 election—one that gave Congress and the White House to the other side—made Sanders reconsider his stances, he yelled out from the podium otherwise: Health care? Expand coverage. Minimum wage? Hike it up to $15 an hour. College tuition? Make it free. Global warming? Undocumented immigrants? Stop the scapegoating. Prisons? We've got too many people crammed into them. Acknowledged it is happening and something must be done to counter it.
"We have been through struggles before, and today amidst all of these problems, we are not going to desert our kids and our grandchildren and this planet" he proclaimed in his trademark guttural, Sandersian drawl. "We are going to stand up and we are going to fight back."
The crowd, inside the Rail Event Center, ate it up.
Here were Sanders' supporters, sporting Sanders paraphernalia, chanting Sanders' name before he took the stage, cheering between Sanders' sentences when he was on it, then buying more Sanders gear from one of the many vendors outside selling things like "Bernie Fucking Sanders" T-shirts for $20 a pop.
But the point, Sanders reminded folks, wasn't to shine a light on himself.
"I want to make this as clear as I can," he said. "This is not about Bernie Sanders, this is not about [DNC Chair] Tom Perez, this is not about anybody else. You know who this whole thing is about? It's about you, and it's about your children, and it's about your parents, and it's about the environment."
The event is part of the cross country "Come Together and Fight Back" tour sponsored by the Democratic National Committee. It is an effort to refocus the Democratic platform and fight against President Donald Trump's agenda.
Sanders asked that Utahns who voted for Trump consider whether he is championing causes that align with their values.
"When Donald Trump ran for president, he said he was going to provide healthcare for everybody," Sanders said. "Well, Donald Trump did not tell the truth. He did not tell the truth with regard to health care and, by the way, he did not tell the truth with regard to many other issues."
While Sanders acknowledged room for improvement, he noted the left has made progress on issues such as rights for women, LGBTQ and people of color, and said the country has taken a step backward on economic equality; one of Sanders' most recognizable causes.
"Bernie is my hero," attendee Iris Nielsen said afterward. "He is the only politician that people are listening to that actually cares about the middle-class."
At a time when political rallies have been volatile and testy, Sanders came and went without much controversy. (There was one man who, as the doors opened and the line slowly moved through security, stood on the grass with a bullhorn so he could let the "wussy liberals" know they were unattractive infanticides.)
However, DNC Chair Tom Perez has remained a problematic figure for some progressives. He took the stage immediately before Sanders to a mixture of boos and cheers. A couple voices repeatedly jeered as Perez spoke, even as he delivered lines that many liberals would get behind.
"We believe that everybody in the workplace should have a voice in that workplace," he said. "Because what I've learned, my friends, and I've learned all too hard, is if you don't have a seat at the table then you're on the menu."
One of the Perez detractors was Silas Janjua, who regards himself an activist. He latched on to Perez' comment that the party should solicit corporate dollars, which Janjua and others see as an affront to the progressive message.
"There's hypocrisy and it also makes me feel like we're just voting for one side of the same coin," he told City Weekly. "It doesn't represent progressive values. It represents—to paraphrase what Bernie said—the same old, same old politics-as-usual. Tom Perez is sort of the antithesis of what Bernie wants to do."
Several party members spoke at the event, the first of whom was Utah Democratic Chairman Peter Corroon. For a stretch last year, pollsters wondered whether Utah would break a decades-long trend of voting red. It didn't happen, but Corroon said the state saw a 10 percent uptick in voter turnout, which he found encouraging.
"We are here to unite; we are here to fight back under the banner of the Democratic party," he said.