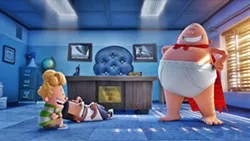 Not one but two beloved super-heroes hit multiplexes this weekend, while a local true story, the story of Winston Churchill and a documentary about a jazz legend are among the counter-programming options.
Wonder Woman
finds a successful formula for the DC Movie Universe by taking a page from the DC TV Universe.
Captain Underpants: The First Epic Movie
(pictured) matches the silly potty-humor vibe of the source books, while also providing a spirited defense of silly potty humor.
Chasing Trane
provides an effective approach to the genius of John Coltrane by mostly letting the music do the talking. The inspirational Utah true story of
Love, Kennedy
jerks some tears, but is mostly an earnest one-note hymn for the believers.
MaryAnn Johanson finds the biopic
Churchill
never picks up enough steam to carry its thin story.
In this week's feature review, a big performance by Bryan Cranston might be just the right kind of performance for the psychological drama of
Wakefield.