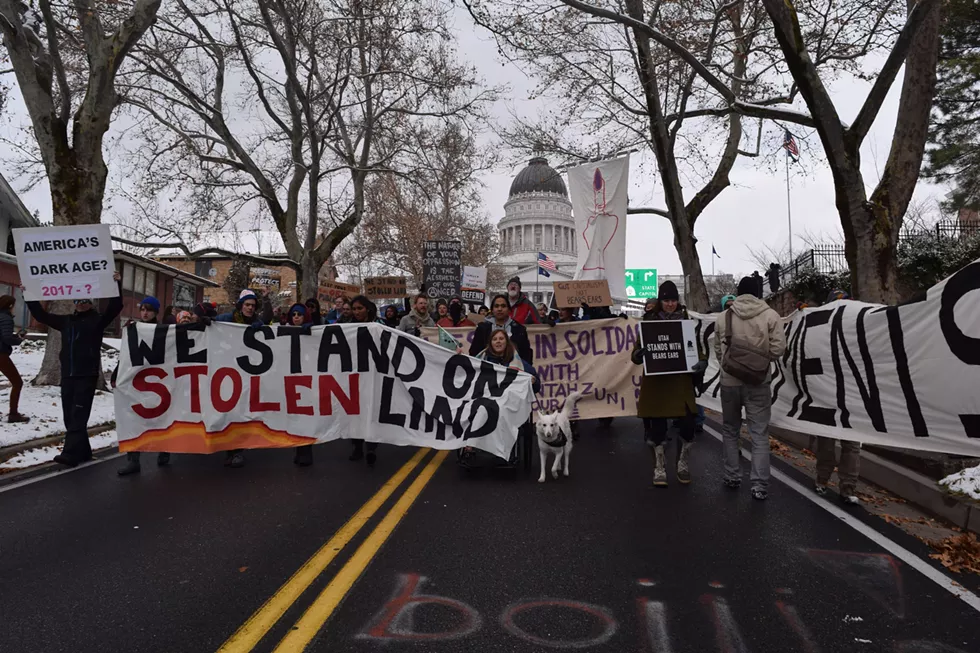 Ray Howze
Protesters head down State Street away from the Utah State Capitol Building following President Donald Trump's visit on Monday, Dec. 4. Trump signed two presidential proclamations shrinking the size of the Grand Staircase Escalante and Bears Ears national monuments.
Not even heightened security and closed roads were going to keep people away from the Utah State Capitol on Monday.
Protests were planned outside the Capitol once President Donald Trump announced earlier this year he would visit to make remarks on the Bears Ears and Grand Staircase-Escalante national monuments. But the intense debate on how to handle the monument designations spurred some for the first time to craft signs and make their own statement.
Salt Lake City resident Alan Eastman, who attended Monday's events with his wife, Vickie, said he's never attended a political rally before. He prefers calling and writing elected leaders. After visiting the Bears Ears area last year, however, he said he couldn't sit on the sidelines anymore.
"It was the first time we've been down there," Alan Eastman said. "I was really impressed with all the artifacts and how beautiful and open it was.


"The artifacts, though, they are so widely dispersed down there and I'm concerned [the new boundaries] don't include enough of Cedar Mesa and White Canyon," he continued. "With no protections, I find it insane."
Ray Howze
Alan Eastman, middle, and Vickie Eastman, middle right, stand in front of the Utah State Capitol Building.

Trump's proclamation will shrink Bears Ears from 1.3 million acres to about 201,000 acres. Grand Staircase-Escalante will be reduced from 1.8 million acres to about 1 million acres.
While Trump signed the proclamations inside the statehouse, chants of "Who are we? … Utah! What do we want? … Bears Ears," and other variations rang out in front of the Capitol throughout the morning. Monday's turnout was not nearly as big as the estimated 5,000 who showed up Saturday but the hundreds still made their presence felt. At about 12:45 p.m., the crowd proceeded down State Street to South Temple and temporarily blocked traffic. Police later dispersed the mass.
Nicholas Johnson, who held a sign reading "Trump skis in jeans," said he felt he had to come to Monday's rally because he didn't understand opening the land for other possible exploration. Johnson, who described himself as a geologist specializing in mineral exploration, said he didn't see any value in places such as Bears Ears if companies want to mine there.
"There's no real economic value to opening that land up for exploration," Johnson said. "I feel bad because it gives the mining industry another bad name."
Some even traveled from other parts of the state to attend Saturday and Monday's demonstrations.
Rupert Steele, a member of the Confederated Tribes of the Goshute Reservation, said that even though the monuments don't include land where he lives, he doesn't agree with reducing their sizes.
"It was a very, very strong agreement between the tribes and [the government] to preserve the holiness of the land," Steele said. "They're dissecting it and it's kind of like taking an arm here and there."
Despite the hundreds of people voicing their opposition to shrinking the monuments, a few dozen showed up wearing Trump paraphernalia and held signs supporting the president's decision.
Enrique Limón
Tami Hunsaker (center right) and her friend Nancy McKellar (ctr. left) show their Trump pride.
Nancy McKellar and her friend, Tami Hunsaker, travelled from Northern Utah for a chance to see Trump. While they didn't catch a glimpse of him in person, McKellar said their main goal was to show him he had support.
"As Obama did that right as he left office, he should have left it to the people," McKellar said. "They wanted it reduced and [Trump's] listening to them."