Page 3 of 4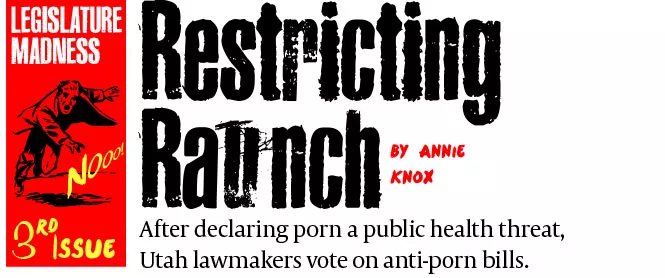 Utah's push against porn is not over.
The Beehive State became the nation's first to declare pornography a public health crisis last year. It is now poised to be the first to open pornography producers to more lawsuits from those who feel they have been damaged by X-rated content.
"All we would do is open a valve in our state code that would recognize this cause of action," says Sen. Todd Weiler, the Woods Cross Republican sponsoring the bill. "We're saying if someone feels they've been injured or harmed," they have grounds to sue.
First Amendment proponents warn against restrictions on freedom of the press and expression, no matter how unsavory. But Weiler brushes off the free speech concerns, saying his proposal stops short of dictating what pornographers can create. The bill has yet to be drafted, but Weiler says it would exempt porn sites that take reasonable measures to make sure only adults could access them.
"My goal in everything I'm doing with respect to porn is focused on trying to protect children and let them be innocent for a few more years," Weiler says, "rather than telling adults what they can or can't do in their own home." Weiler, an attorney, will make the case to colleagues as the legislative session convenes at the Capitol on Monday, Jan. 23.
He hasn't heard from other attorneys or Utahns seeking a streamlined path to sue adult film producers, but believes the opportunity should exist.
Opponents of pornography say it undermines marriages and provokes violence against women, and that it is addictive. But the American Psychological Association (APA) isn't willing to go that far. Watching porn can become compulsive, the APA says on its website, but research has yet to show it can result in addiction.
Rep. Brian King, D-Salt Lake City, thinks there's a better way to prevent children from turning to porn and what he says is its tendency to "provide an unhealthy, unrealistic picture of what sexual relationships should be like." This year, King plans to revive a bill to allow lessons on healthy relationships and sexuality in Utah schools. Lawmakers last year voted down a version allowing comprehensive sex education to replace abstinence-only lessons.
"I think, if anything, leaving kids in the dark increases the likelihood that, out of frustration or curiosity, they're going to turn to other sources of information," King says. They might turn to friends, parents or others for answers, he says, but "sometimes it will be porn."
King believes the law already allows people to sue on the grounds Weiler wants to knit into state code.
Weiler's proposal comes eight years after a Harvard University economics study named Utah as the state with the highest per-capita porn consumption, with a narrow lead over Mississippi. Neighboring Montana, on the other end, had the lowest rate of people buying online porn.
Last year, lawmakers passed a symbolic measure declaring porn a health crisis, and Republican Gov. Gary Herbert signed the bill. Tennessee's Legislature currently is considering a similar measure.
The Free Speech Coalition, a porn industry trade group, called the Utah move "an old-fashioned morals bill, not founded in science. The measure drew ridicule from late-night shows, bloggers and the public. But Weiler says he has received calls from several people thanking him. Those people include a Davis County mother, a pastor from Indiana, and a man from South Carolina who told Weiler he was putting his life back together after his penchant for porn caused his wife to leave him.
Weiler also proposes another law that would boost public libraries' digital defense against pornographic pictures and videos. He says he knows of a dozen libraries in the state that don't have the budget to upgrade their Wi-Fi to block obscene images. He estimates the bill will set aside a pool of $50,000 to equip the public buildings with the proper software.
The sentiment is shared by the governor's office. In his budget proposal, Herbert asked lawmakers to set aside a separate $50,000 for the private nonprofit Utah Coalition Against Pornography.
The Utah Librarian's Association did not return a call for comment. Weiler says any step reducing youngsters' ability to consume porn is a good one.
"I just I'm kind of horrified at the thought that this is going on out there." Weiler says.