Page 4 of 4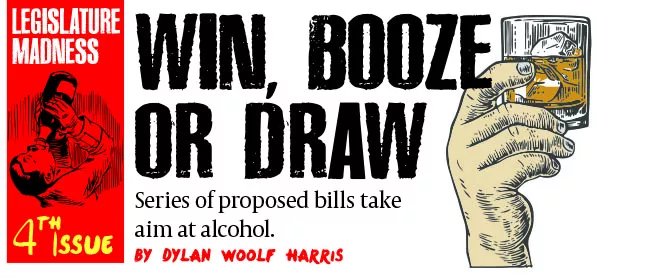 When time seems to tick away at a speed you can't process, or when you realize it's difficult to follow tortuous prattle, or when you're smacked with an irrevocable urge to vomit, you might be drunk off your rocker.
But you're probably at the Utah Legislature.
It's only fitting, then, that bills governing alcohol take stage once again as we head into the legislative session. But these laws don't just touch the lushes among us. They impact tourism, safety, money and health. They demonstrate the balancing act between government and free market. They also raise questions about how much influence a teetotal religion has in a secular statehouse.
So, pay attention this session. And hope that your stein, flute or shot glass (or abstain if you so choose) can sustain you for the next 45 days.
Cash
Those long liquor store lines bedeviled booze-shoppers this past holiday season and provoked cursing from procrastinators—but at least they lit up legislators' eyes with dollar signs.
Utah liquor stores brought in more than $405 million in sales the last fiscal year after taxes. That means that if every man, woman and child in the state went out and purchased a $99 bottle of cabernet sauvignon today, it still wouldn't come close to hitting the dollar amount the Department of Alcohol Beverage Control raked in. Money is sent back into government coffers.
We booze hounds are a cash cow.
The Al Caponian stranglehold on the market is incentive enough for Utah to protect its lucrative booze monopoly from the free market's invisible hand. But that doesn't mean the budgeting can't be tweaked.
State Sen. Karen Mayne, D-West Valley City, is introducing a bill that would allow the DABC to retain 15 percent of its profits.
"It's a retail store, so treat it like that," she says. While admitting it's probably too low, Mayne says 15 percent would be palatable to the Legislature.
Currently, the state allocates a set number of dollars each year for the DABC. This ties the hands of store management, however. It's tough to give meaningful raises to store employees, for example, if it's unknown whether money will be made available in the following year's budget.
Mayne says this has inevitably led to problems within the stores, including low morale and high turnover rates. Starting full-time wage in all stores is $10.25 an hour plus benefits, except Park City and Moab where it is $12.24, according to the DABC.
Sen. Jerry Stevenson, R-Layton, is working on a competing bill that would set aside $750,000 for the department. This money would offer stores some flexibility.
"They would have that in order to put out fires, so to speak," he says. "There're some great employees who work for DABC and they work for low wages."
For the upcoming year, Gov. Gary Herbert has recommended funding $49 million for the DABC, a $2.5 million bump from the recommendation last year.
DUI
Surely this year's most noticeable alteration to an alcohol law proposes to lower the legal driving limit from a .08-percent blood-alcohol level to .05. Under this law, drivers will have to be extra careful with the amount of alcohol they consume.
Rep. Norman Thurston, R-Provo, is the bill's sponsor. In his research, he discovered that 1 out of every 6 drunken driving fatalities in the state occur in situations where a driver had a legal amount of alcohol in his blood.
"The reality is that it's not OK to drive [with a .08 BAC]," he says. "It might be legal, but it's not OK."
No other state in the U.S. has a blood-alcohol content limit lower than .08 for general drivers, and it would seem this would set Utah apart yet again as a place with quirky liquor laws. Thurston doesn't see it that way. Worldwide, he notes, .05 is a common limit, and U.S. commercial licenses often hold drivers to a standard of .04.
But could a .05 deter out-of-state visitors?
Scott Beck, president and CEO of Visit Salt Lake, doesn't expect tourism to swing one way or the other. Whether Visit Salt Lake sides with Thurston will depend on the police.
"In terms of alcohol level, we've always found it best to follow the advice of our law enforcement community," he says.
3.2
For some reason, 2016 felt like a knock to the gut that could only be remedied with a bottle of suds. So, bottoms up.
The good news for a fraction of Americans—namely Oklahomans—is, thanks to this latest election, they soon (2018!) won't have to drink two-and-a-half frosty cans before they start to get their buzz on. That's because Sooner State voters did away with the prohibitive constitutional rule requiring beer sold in its grocery stores be 3.2 percent alcohol.
What's an Okie's business gotta do with Utah laws?
The number 3.2, of course, represents to Utah beer drinkers a stodgy rule. The Beehive State is one of only a few places where grocery stores are restricted to selling beer that consists of 3.2 percent alcohol by weight—or about 4 percent by volume.
Like a gawky guy planted obstinately on a bar stool, Utah looked up to find itself among a few other outcasts. But last call eventually comes, right? Speculation swirled that Oklahoma's vote could lead to changes in Utah.
As the 3.2 market shrinks, national manufacturers won't have incentive to brew it, the thinking goes. One such manufacturer, Anheuser-Busch, sent a statement to ensure that they weren't going to stop producing beer fit for a Utah grocery store.
"Anheuser-Busch is also a proud member of the Utah beer community and has provided Utah beer drinkers with their choice of beer, regardless of the alcohol content, for decades," it reads. "Ultimately, our focus is on the customer and we are prepared to continue to provide Utah beer drinkers with the products they demand."
But the Utah Beer Wholesalers Association is leery that once Oklahoma's law kicks in, followed by a similar measure in Colorado, that attitude could change. Nationally, 3.2 percent beer comprises about 1.8 percent of the market, Wholesalers Association President Jim Olsen says. Of that sliver, almost 60 percent goes to Oklahoma and Colorado.
Brewers will have to decide whether they can "economically afford to shut down our lines, to flush the lines, to redo the packaging for less than 1 percent of the total beer consumed," Olsen says.
He is urging lawmakers to change the legal limit from 3.2 percent alcohol by weight to 4.8 percent alcohol by weight, which would equate to about 6 percent by volume. He chatted with Sen. Stevenson regarding these changes.
Stevenson, however, prefers to wait on the proposal. "My guess is that's next year or some point later," he says.
Zion Curtain
Razzing 3.2 beer is like a faint guffaw compared to the derision some target at the so-called Zion Curtain. This law requires certain establishments create a barrier that hides the bar from patrons' vision. It's designed to save lives ... or something.
Whatever the rationale, executive director of the Salt Lake Area Restaurant Association Michele Corigliano says the Zion Curtain is no good for business, but she's sanguine stakeholders can do away with it and keep the public safe.
"They have been very receptive in knowing that we are all on the same page: We all want to decrease drunk driving. We don't want to have people over-consume and have underage drinking," she says.
Patrons prefer to see drinks being made, she says, and bartenders would rather deal with the customers face-to-face. If those reasons aren't enough, Corigliano argues that public safety should tip the scales. Bartenders are not allowed to sell to an intoxicated barfly, but it's not always easy to tell, and the curtain provides one more barrier they have to get through.
"There are many clues that bartenders have to notice when people are over-consuming. Those clues come from face-to-face contact. When they're behind a wall, they can't pick up the clues and that leads to drunk drivers or people just drinking too much," she says.
Visit Salt Lake also hopes to tear down the curtain.
Sen. Jim Dabakis, D-Salt Lake City, will introduce a bill to topple the Zion Curtain.
"Clearly, there are public safety issues involved with alcohol," he says. "But sometimes we just have stupid, ridiculous rules, regulations and laws that have no effect on public safety—and just make Utah the subject of scorn and ridicule."