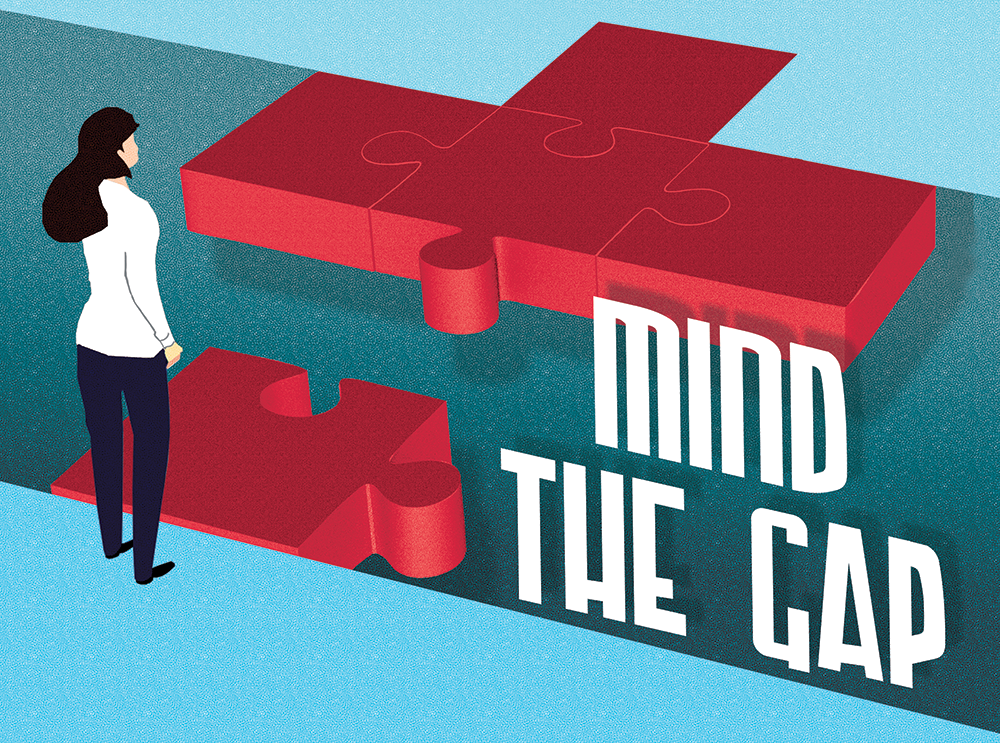 John-William Jones has high hopes for the day he's enrolled in Medicaid. Maybe an ear, nose and throat specialist can tell him why his sinuses are still affected from the virus he battled a month ago. Perhaps a CAT scan or an ultrasound can explain the sharp, shooting pains in his lower abdomen. And new glasses probably wouldn't hurt—they'd help him see clearer than the pair he's been wearing for the past 15 years.
"The frames, I can't get 'em adjusted anymore," Jones says, his 39-year-old face behind the cracked lenses filled with an outdated prescription. "The metal's been weakened so many times by being adjusted."
Jones is one of about 17,000 Utahns who gets his medical insurance through the Primary Care Network (PCN), a program that offers health coverage to adults who earn low incomes but don't qualify for Medicaid. The funds are only good for a limited range of services. Jones still pays about $60 every month for therapy, and $4 for each prescription that helps him manage his depression, anxiety and alcohol cravings.
Those financial obligations add up, and they make Jones feel like a burden. He doesn't have a job. He's a full-time caregiver to his 67-year-old mother, who suffers from an array of ailments including a degenerative nerve disease and an inoperable tumor beside her spinal cord. "We sit down at the end of each month, and we go through, 'What do we really need versus what can we get away without having?'" Jones says as he sits on the living room sofa in his and his mother's Cottonwood Heights two-bedroom condo. "It makes me feel like less of an adult and less of a man to have those conversations."
He wishes he had enough money to care for those who are important to him—his mom, significant other and cat. "In this society, it's pushed on male people to be the provider, to work, to have a job and provide for your family and loved ones," Jones says. "And I feel like I'm failing them."
Jones soon should have a bit more cash in his pocket. PCN enrollees like him are supposed to be switched over to Medicaid coverage next month, meaning he'll spend less on prescriptions and not have to pay on a sliding scale for his therapy sessions. As of press time, there still is no guarantee the state will institute its Medicaid expansion plan on April 1, but Jones is one of the lucky ones. He'll get coverage. Eventually.
At the beginning of this year's legislative session, lawmakers passed SB96, a bill that effectively supersedes Proposition 3. It should make between 70- and 90,000 people eligible for Medicaid. Conservative legislators proudly proclaimed that though they were protecting the state's financial interests by limiting the scope of Medicaid expansion, they were narrowing the chasm that traps Utahns too poor to buy insurance through the Affordable Care Act (ACA), yet not in dire enough circumstances to qualify for Medicaid. "But, in closing that gap, they've created new ones," Utah Health Policy Project's Stacy Stanford says. "They've built the bridge, but it's a bridge with some missing planks and holes in it, to go across the coverage gap."
The Legislature's action in eviscerating Prop 3 has its share of vocal critics.
Sticking a finger under his worn-out glasses to wipe away a tear, Jones gets emotional as he talks about Prop 3. He insists on publicly thanking the Utahns who voted in favor of extending health care to people like him, strangers trying to manage their chronic health problems. Then he issues a challenge to the legislators who voted in favor of overwriting the ballot initiative: "Live the way we have to live. Don't have outside funds, resources; spend two months in our shoes, and then tell us: is this enough to live?" he says. "This is not a life of luxury. It's a hard life."
A Slight Proposition
On the first day of the legislative session, hundreds of people gathered in the Capitol's rotunda to tell lawmakers to keep their hands off Prop 3, a ballot initiative voters approved last November that would have extended Medicaid to an estimated 150,000 low-income Utahns. Stanford was one of the speakers that day. She told the crowd that tinkering with the expansion would hurt vulnerable people in need of medical care. "We're not fooled by that, right?" she asked from the bottom of a marble staircase. "We know that adjustment is a repeal, right?"
Two weeks later, Gov. Gary Herbert signed SB96 into law. Touting the state's fiscal responsibility, Herbert said in a statement that, "SB96 balances Utah's sense of compassion and frugality. It provides quality coverage to the same population covered by Proposition 3 in a meaningful, humane and sustainable way."
Leonard Bagalwa was also among those who rallied at the Capitol a few weeks before Herbert's signature overwrote Prop 3. Now 39 years old, Bagalwa grew up in the Congo until he fled his home when he was 17. He lived in refugee camps in Malawi and Zimbabwe until being resettled in Utah in 2004. He cast his first ballot in a U.S. election in 2016. "The first time I voted in this country was to vote for a woman," Bagalwa says. The second time, he voted in favor of Prop 3. It's not an encouraging track record to vote for two failed political dreams, but Bagalwa remains optimistic about the power of the people's voice. "There's a time I will be heard," he says.
That doesn't mean he wasn't disappointed by SB96's passing. "I was born in a Third World country, where a dictatorship and no democracy, nothing, no respect of human rights," he says. "I just saw the Third World country again, where politicians don't respect people's vote."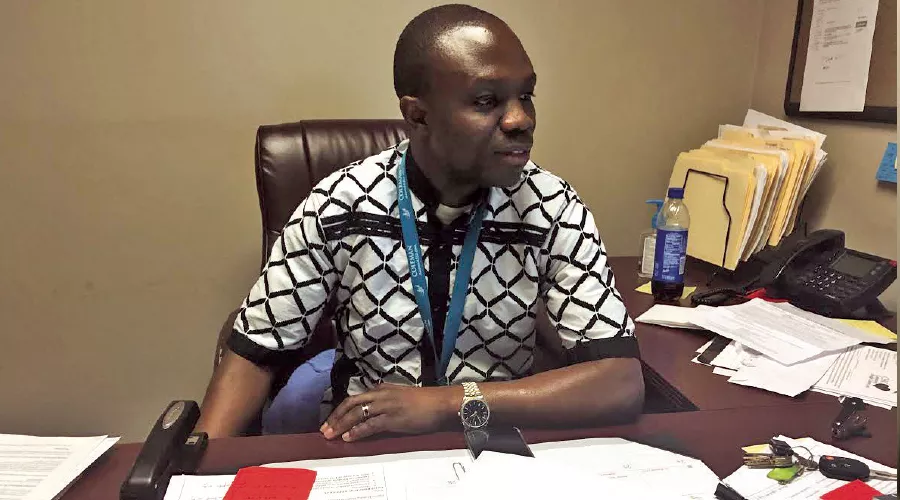 Kelan Lyons
Leonard Bagalwa
Medicaid for All?
Those in favor of the ballot initiative have a reason to be upset—there are key distinctions between SB96 and Prop 3, and supporters of the latter argue that many people will lose coverage under the former. The Legislature's plan would impose work reporting requirements and include caps on enrollment and the amount of money spent on each enrollee—none of which were a part of the ballot initiative. Proponents insist these measures will save taxpayers' money and protect the state from allocating huge parts of its budget toward Medicaid.
"It's not a simple black-and-white issue," Stanford acknowledges, since many who need coverage stand to benefit from the lawmakers' plan. "There's 70,000 getting care, but there's like 50,000 who are still left out."
Take the work reporting requirements, for example. Four months ago, before getting up to check on his mom, Jones laid in bed each morning and ran through a checklist of people who would miss him if he were to take his life. "It was every day, trying to convince myself that there was reason to get up and live," he says. He doesn't think he could have held a job during his last bout with depression. Perhaps comprehensive coverage will make him better equipped to gain steady employment. He'll have more resources to fight his demons.
"I want to work. I really do. Most of us who are in this situation, we want to work, we want to have jobs, we want to have regular insurance," he says. "We don't want to be charity cases."
Most of the Medicaid enrollees Stanford knows already have jobs. The issue with the work requirement lies with the reporting. "Paperwork is already confusing. I'm a health-policy expert, this is what I do for a living, and I lost my insurance briefly last year because I did a paperwork error," she says, recalling when she transitioned from a private insurance plan to one acquired through the ACA. "Any of us can make a mistake and lose our coverage, but on Medicaid, this is a population that they're less likely to be fluent in English, they're less likely to have an understanding of the complex health-care system, they're less likely to have internet access, cell service, so it's all these complicated things. It's just adding another barrier."
In mid-2018, Arkansas became the first state to demand its Medicaid enrollees fulfill a work requirement. More than 18,000 people lost their coverage in the first six months. Residents in three states have issued legal challenges against similar mandates, putting taxpayers on the hook as officials defend the suits in court.
Another crucial distinction between SB96 and Prop 3 is who gets to access Medicaid and who has to obtain coverage from the ACA. Under Prop 3, people who earn between 0 and 138 percent of the federal poverty level—up to $16,753 for a single person, or $34,638 for a family of four—would have been eligible for Medicaid. Per SB96, those who earn up to 100 percent of the FPL—$12,140 for an individual—qualify for Medicaid, but people whose income levels fall between 101 and 138 percent must purchase insurance through the ACA's online marketplace.
In the committee debates prior to SB96's passing, lawmakers said ACA coverage would cost little for Utahns whose incomes lie between 101 and 138 percent of the FPL. According to a fact sheet distributed by the governor's office, people whose annual incomes are $12,140 could purchase a plan for as little as $3.57 a month. But they'd still need to fork out a co-pay whenever they sought medical attention, and pay to fill a prescription.
Bagalwa knows firsthand how seemingly affordable insurance can stretch a family thin. As a refugee case manager for Health Access, he helps people enroll in health coverage through the ACA or apply for Medicaid. He's seen people get priced out of the marketplace or be unable to afford important medications needed to manage their illnesses.
He also would have qualified for Medicaid if Prop 3 had become law. He earns about $36,000 annually, putting his six-member household under the 138 percent FPL threshold. Now, he pays almost $250 a month in premiums for him and his wife. His four children are covered under Medicaid.
"My one check goes to pay my mortgage. The other check goes to pay the bills," he says of his monthly pay. "In case of emergency, we don't have anything else."
Even with the hefty cost of insurance, Bagalwa is in a better position than many. The 45-day open enrollment period to purchase ACA insurance for the 2019 calendar year ended Dec. 15, 2018. That was two months before Herbert signed SB96 into law. "We've already gotten phone calls from people that said, 'Well, Prop 3 won, so I didn't sign up under healthcare.gov, 'cause I was gonna get Medicaid in April,'" Stanford says.
Utah Health Department Communications Director Tom Hudachko says his office asked the Center for Medicare and Medicaid Services (CMS) about the feds allowing those Utahns to sign up for ACA insurance under a special enrollment period. CMS denied the request. "So, those who didn't purchase coverage on the exchange during the last open enrollment period would need to wait until the next open enrollment period," Hudachko wrote in an email, meaning they will not be covered until January 2020.
Herbert tells City Weekly he'd be "happy to" lobby the Trump administration on behalf of those who did not buy insurance through the ACA exchange during the last open enrollment period. "I'm sure we'd want to advocate for the people. They somehow fell in the crack there, and hopefully wasn't all just of their own, 'Well, we think we're gonna win the lottery and it didn't happen,'" Herbert says. "We want to make sure that everybody qualifies, gets health care."
Ray Howze
Gov. Gary Herbert
A Long Wait
Alecia Bales has been on a Medicaid merry-go-round for the past several years. She'd been priced out of buying an ACA plan until June 2018, when her husband's job in Orem offered him a raise. They'd had a bit more money to pay for a plan on the ACA marketplace, but because they weren't in an open enrollment period, they took the coverage offered through the husband's work. Every month, about $700 in insurance premiums were taken out of his paychecks for his and Alecia's coverage. Not that it mattered—with a $4,000 deductible, Bales rarely went to the doctor's office, out of fear she'd have to pay hundreds, if not thousands, of dollars out of her own pocket.
Sometimes, Bales gets an allergic reaction that makes her throat swell and affects her breathing. She doesn't know what causes it; she figures getting tests done to figure it out would also cost too much. She has a few EpiPens to relieve her symptoms. She knows she's supposed to go to the hospital after she jabs them into her leg, but is too afraid to visit the emergency room. "I realize I could die ... but I'm so terrified of owing somebody so much that I'm going to have to choose between food and paying this bill, I just choose not to go to the doctor," she says.
Bales thinks it's vital to have health insurance. Her 2-year-old son has a chronically low blood platelet count. Someone needs to watch him constantly. And her 10-year-old daughter has high blood pressure and kidney problems. "If anything were to happen to me, I don't know who would help take care of them," Bales says. "I don't have time to be sick."
Bales' husband lost his job at the end of February, meaning the parents have joined their five children on the state's Medicaid program. But Bales expects they'll soon be booted because her husband just got offered another gig. Were the state to institute the program proposed by SB96, she could qualify for Medicaid all year, thanks to a 12-month eligibility provision that wasn't even a part of Prop 3. But despite officials' assurances, it's not a guarantee. "I'm at a point where I feel like I'm about to have a mental breakdown," Bales says of her insurance coverage's uncertain future. "There are people like me who are waiting on the edge of our seats to see what happens, what goes through, to see how this affects our life."
In order to enact SB96's proposals, the federal government will need to grant Utah permission to create its own version of Medicaid expansion.
"We want people to know that these waivers are not guaranteed," Nate Crippes, an attorney for the Salt Lake City-based Disability Law Center, says. "A lot of these things have never been done before, and some of them have been challenged in court."
The first—and most urgent—hurdle is a waiver for a so-called "bridge plan" in which the state would pay 30 percent of the cost of expansion—as opposed to the typical 90/10 split, where the feds pick up the lions' share of the tab—and eventually impose work reporting requirements and have the ability to cap enrollment. That's supposed to happen by next week, so state officials can start accepting applications at the same time they would have under Prop 3. As of press time, CMS still has not granted the request. Herbert told City Weekly in mid-March that he was 80 percent sure Utah would get its waiver in time for the April deadline. "There's a couple of things that need to be worked out," he said, "and a couple of bureaucrats, probably ... that need to be convinced that this is the right thing to do."
Next up is the per-capita cap waiver, which Utah Health Department's Hudachko says the state plans to submit by late spring. Without getting too into the weeds, this parameter would lock the state's funding for its Medicaid program by setting a fixed amount per enrollee. "Nobody budgets to a number, but if we have a per-capita cap, we can understand, 'This is how much we're going to spend as a state,' and the federal government knows, 'This is how much we're going to spend as a federal government,'" Herbert says. "It's just a matter of saying, 'Whatever we're buying today, we can afford tomorrow.'"
Not so, argue SB96 naysayers. Jessie Mandle, a senior health policy analyst for Voices for Utah Children, warns that a per-capita cap could hurt the state. "That means Utah will be on the hook for paying more if there are any program changes," she says. "And that's just a risky strategy to cover kids and families and individuals."
If CMS doesn't approve the per-capita cap plan by January of next year, Hudachko says they'll work on a "fallback" proposal that's similar to Prop 3—meaning it would cover people who earn up to 138 percent of the FPL—but has work requirements and a limit on the number of people who can enroll in Medicaid. If that doesn't pan out, the state will implement Prop 3. But in order for that to happen, the plan would need to survive a 2020 legislative session that follows lawmakers rewriting not one, but two voter-approved ballot initiatives, the people's will be damned.
"If we don't get the waivers, then we'll go back to the initiative, and do it that way," Herbert pledges. "So, either way we're going to have access to affordable health care."
The state's Medicaid expansion implementation tool kit lays out a handy timeline for what waivers officials will seek and when they'll give up and settle on full expansion. It plots out rough estimates for the next 14 months, ending on July 1, 2020. In the meantime, people like Bagalwa will perform the delicate balancing act of paying their premiums and stretching their paychecks to take care of their loved ones. "Those people, they grow up in a family where they don't have to worry about anything. Everything is there for them," Bagalwa says about legislators who overwrote Prop 3. "So, they have to understand there's people that didn't have that chance."
When you're living in the coverage gap, those days and weeks matter. Waiting six extra months, or a year, to see a doctor is not an abstract problem. Those Utahns will continue to manage their pain and illnesses every day until they can see a medical professional without worrying about bankrupting their families.
"I think there are certain people, even myself included, I may one day end up having an allergic reaction and thinking I'm going to be OK, and then I'm not," Bales says. "It would not surprise me one bit to find that people are dying ... They're dying, and yet the government's saying, 'Oh, everyone's covered.'"
Editor's note: On Friday, March 29, Centers for Medicare and Medicaid Services (CMS) approved Utah's partial Medicaid expansion plan.