Connell O'Donovan
In 1991, when Pride organizers first ended the march at Washington Square, they were met by neo-Nazi protesters.
It wasn't symbolism, imagery or beauty that made Connell O'Donovan decide to finish the second annual Gay and Lesbian Pride March at Washington Square, the esteemed park and home of the jaw-droppingly gorgeous City and County Building. It was the horses.
The previous year, in 1990, O'Donovan had organized Salt Lake City's first Gay and Lesbian Pride March, commemorating the 21st anniversary of the Stonewall riots. The day after Gay Pride Day in Sunnyside Park, about 200 people congregated on the State Capitol's steps to hear speeches from prominent gay and lesbian leaders, then marched down Main Street, turned right onto South Temple and passed the Salt Lake Temple. "It was important to me to kind of flip the finger at that church. I grew up Mormon, and they tortured me, and wounded me really deeply," O'Donovan says in a conference room in the Utah Pride Center's new Main Street digs, almost 30 years after organizing that march. "I wanted to make a statement."
But when, on that June day, the crowd turned onto South Temple and passed Temple Square's south gate, things went buck-wild. "There used to be a stop at the horses and carriages. We terrified the horses: they were bucking and stuff, and the police were freaking out about it. So we had to divert the parade," O'Donovan recalls. The march ended at the amphitheater just south of Abravanel Hall, and the police later contacted O'Donovan and told him they couldn't pass the horses the next year. So, the route—from the Capitol to Washington Square—changed in 1991, foreshadowing the City and County Building's status as a sort of focal point for LGBTQ pride, and continues to serve as ground zero for this year's festival.
The roots of the Utah Pride Festival—which includes the Pride Parade, the state's second-largest behind the Days of '47 procession—stretch back to 1974, when Joe Redburn, owner of the former Sun Tavern, sponsored an event in which some 200 people went to the Great Salt Lake's "Bare Ass Beach" to celebrate Gay Pride in Utah. "One of the reasons they went out there, was they didn't think they could have a public gathering of that many gay people who wanted to be seen," Ben Williams, retired schoolteacher and writer for QSaltLake Magazine, says. The following year, the Gay Community Service Center organized the first community-wide sponsored pride celebration, shuttling people from local gay bars to and from City Creek Canyon, where the "Gay Freedom Day" was held.
"[In] the early Pride days, it was a statement for people to even attend," Williams says of the few people who were "brave enough" to go. Prior to Jeff Freedman, Bruce Harmon and Rev. Bruce Barton reinventing the Pride March and Rally and morphing it into a Gay Pride Parade in 1994, Williams says Gay Pride Days in Utah were more political. But once Freedman was elected to the chair of the Gay and Lesbian Community Council of Utah's Gay Pride Day committee in the mid-'90s, he made the events more celebratory, increasing turnout.
O'Donovan says the '90 and '91 marches he organized were "more of a protest kind of experience rather than a celebration," but also a "presence, to show that we're here, we're queer," Williams says, finishing O'Donovan's sentence from his seat across the table in the Utah Pride Center.
Their presence also attracted more sinister protesters: In 1991, the first year the marchers ended in Washington Square, Neo-Nazis were standing on the steps of the City and County Building, waiting for them. "People were really freaked out," O'Donovan says, but he and Williams say things stayed largely peaceful.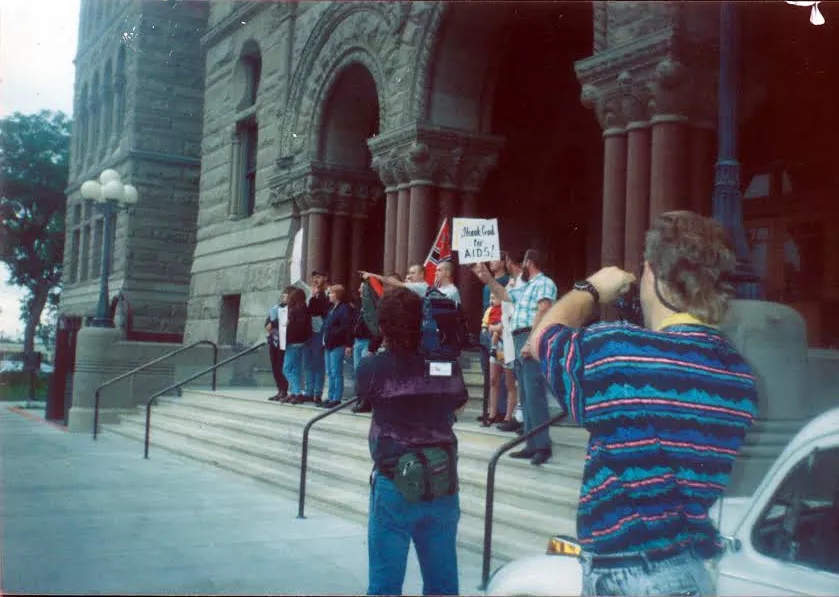 Freedman also made the decision to bring the celebrations back into Salt Lake City's downtown, Williams says, moving Pride Day to the Gallivan Center and then, about 1997, to Washington Square, where it has been ever since. Wilson says "there's no symbolism to [the festival] being at Washington Square. It's just the practicality. And it's visible now." But Liz Pitts, Utah Pride Center events director, sees symbolism in the square playing such a big role in the celebrations.
For a person who has recently realized they're genderqueer or identify as trans to stand outside a government building, Pitts says, in a "beautiful square" during the Utah Pride Festival, surrounded by allies and members of LGBTQ communities, is "truly celebratory."
Despite the celebrations, Pitts still sees the march and rally as the "activist arm of the week," noting that the festival is "a party, but there's always room for getting out in the streets and being visible."
O'Donovan says the march he organized in 1990 was all-inclusive by design, but Joni Weiss, former board member of the Utah Pride Center as well as former vice president of TransAction, says it took until 2009 before a separate Trans March was held in Salt Lake City, after Valerie Larabee, then-executive director of the Utah Pride Center, OK'd it. "I pushed strongly for it at the time," Weiss, one of the organizers, says. "Up until that point, and still to some extent today, the trans community had been kind of invisible, as far as we're not the people they put out front to talk about or portray the LGBT community. That's changing quite a bit, actually, but back then it was worse than it was today."
Weiss says her and the other organizers' goal was to increase visibility of the local trans community, to give them a microphone and help Utahns "to know who we are. That we're just regular people."
Jocelyn Johnson, director of this year's march and rally, says that over time, the demonstrations have become more inclusive and less focused on single-identity politics; the Dyke, Trans and Interfaith rallies and marches, previously separate demonstrations, were merged in 2015, and a space was created so people who identify as bisexual and pansexual, and who are in polyamorous relationships, had a voice at the rally. "We combined all of the rallies into a single rally that represents multiple identity groups," Johnson says.
"The most important thing to emphasize in this area is the intersection of identities," she adds. "Someone is not simply queer; they may be queer and a person of color. They may be queer and a woman. A parent, an older person or a younger person. We're seeing more awareness of the intersection of identity now."
"It's not very often that a person in the queer community is just queer," Johnson explains. "Often they may be attracted to people of the same sex, or maybe attracted to people regardless of their biological sex, but also they may be women, or they may be people of color, or they may identify strongly as a member of a social class ..."
This year's march ends at the festival, disbanding on the north side of 400 South, at 200 East, mere steps from Washington Square, where O'Donovan and the roughly 500 proud Utahns ended their march 27 years ago. Symbolic or not, the City and County Building continues to play a key role in the celebration of Utah's LGBTQ communities, serving as a recurring presence as leaders, organizers and visionaries pass the torch to future generations.
The significance of the space is not lost on Pitts, who says, "It really is the city center ... to me, this building represents, if it were a small town, a town square. It's the middle of the community."
Connell O'Donovan
SLC Pride '91 attendees strike a festive pose.
Milestone Pride Events

1969: Eastern Regional Conference of Homophile Organizations adopts a motion to commemorate the New York City Stonewall Inn riots.
1970: First LGBTQ pride marches held to honor the first anniversary of the Stonewall riots.
1974: First celebration of Stonewall rebellion in Salt Lake City, when Joe Redburn, owner of the former Sun Tavern, brought more than 200 people to a beach at the Great Salt Lake.
1975: Gay Community Service Center organizes the first community-wide sponsored Gay Freedom Day in Utah, held in City Creek Canyon.
1977: The Salt Lake Coalition for Human Rights celebrates Gay Freedom Day with a three-day symposium. Organizers bring in Air Force Sgt. Leonard Matlovich as the keynote speaker, the first openly gay person on the cover of Time, or any other U.S., magazine and an ex-Mormon.
1983: Individuals from the Royal Court of the Golden Spike Empire revolutionize Gay Pride Day's concept; a Tavern Guild committee organizes a "Basket Social" in Fairmont Park.
1986: Gay and Lesbian Pride Day held in Pioneer Park.
1987: The Gay and Lesbian Community Council of Utah takes over Pride days. Donnie Eastepp, chair of Pride Day Committee, presents a Community Service Award to Dr. Kristin Ries for her dedication to treating AIDS patients when no other Utah doctors would. Eastepp also moves the event location to Sunnyside Park, where it remains until 1991.
1988: Ben Williams makes motion that there should be a sign noting that it's, "Gay and Lesbian Pride Day," because, "How can we be leaders of this community if we're timid? We need to be celebrating what we're doing. So, I made a big ole banner and put that up."
1990: First Gay and Lesbian Pride March held in Salt Lake City, organized by Connell O'Donovan. Before this, Williams says, "nobody was marching or parading."
1991: Connell O'Donovan organizes a second march that ends at the City and County Building, the first time the landmark government building served as a gathering space during a Pride march. Neo-Nazis show up and stand on the government steps.
1994: Bruce Harmon, Rev. Bruce Barton and Jeff Freedman organize the first Pride Day Parade. Barton sews the 100-yard Gay Pride flag that was carried during the parade.
1995: Pride events switch from political demonstrations to more of a party. Jeff Freedman takes over and moves everything back to the city, first to the Gallivan Center; Dr. Kristen Ries named 1st Grand Marshall.
1997: Pride activities move to Washington Square, where it's been held ever since.
2002: First Pride Interfaith Service held at St. Mark's Episcopal Cathedral. Participating religious groups included the Episcopal Church, Affirmation (LGBTQ Mormons and their families), Buddhist, Congregation KOL AMI, LDS Family Fellowship, Holladay United Church of Christ, Native Americans, Pagan Community and the Sacred Light of Christ (then the Metropolitan Community Church).
2003: Utah Pride Center takes over Pride Festival. Dyke March added to the annual Pride Day Parade.
2009: First Trans March held in Salt Lake City.
2015: Dyke, Trans and Interfaith marches and rallies are merged.
April 2018: The Utah Pride Center moves to its new sprawling location on 1380 S. Main.