Page 2 of 7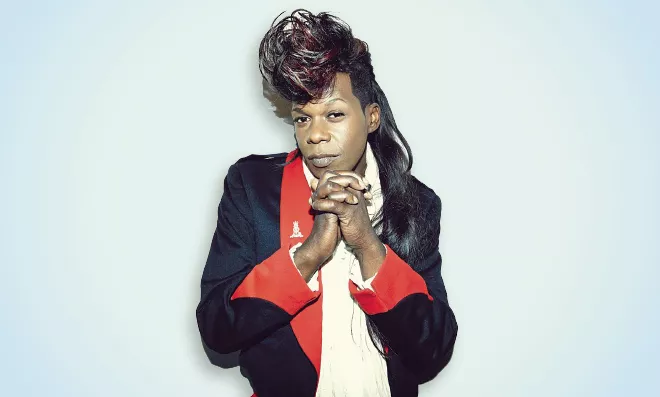 Freedia at Last!
Big Freedia brings her Big Easy bounce to Utah Pride.
By Alex Springer
The aftermath of Hurricane Katrina was one of the most gut-wrenching news cycles in recent memory. After the tragedy and horror passed, however, it became one of the most inspirational. Like many, as I followed the dire situation, I heard the humbling stories of musicians and artists who stuck around to help rebuild their city. As stories of ball-dropping politicians multiplied, so did accounts of impromptu dance parties and concerts. These, in their own way, fueled the reconstruction of New Orleans.
Essential to this cultural convalescence was—and still is—a hip-hop subgenre known as bounce. It's a rapid-fire, twerk-inducing music that ebbs and flows with the communal energy of all partygoers in attendance. NOLA native Big Freedia (born Freddie Ross, Jr.) reveres bounce as a cultural staple. "It's been around in New Orleans for many decades now," she says in a phone interview. "Everybody loves it—from kids to grandmothers. It's a culture here."
While the best way to experience the nuances of bounce would be to catch Big Freedia's performance at this year's Utah Pride Festival, here's a quick primer: It originated in New Orleans in the 1980s, and it's known for whipping audiences into a frenzy with a feverish beat barrage, expertly constructed trash verse and bawdy call-and-response exchanges. "I grew up listening to it as a kid," Freedia reminisces. "I can't believe that I'm among all those great artists that came before me. It's what we love and it brings people together."
Known among her contemporaries as the "Queen of Bounce," Big Freedia's origins as a performer began with an early interest. "I was into gospel music, and I was in community choir," she says. In 1998, Freedia began performing with Katey Red, bounce's first openly gay rapper. Red was known for performing in drag, and soon became one of the genre's most influential members. Red's notoriety paved the way for artists like Freedia to take the stage on their own terms.
Hip-hop—bounce included—isn't the most LGBTQ-friendly genre, but the arrival and popularity of this so-called "sissy bounce" movement helped shape today's more inclusive and diverse scene. "In the beginning, I had a little bit more trouble. Now I can say that I've earned my spot, and people respect me for my music, my craft and who I am," she says. "I collaborate with a lot of different artists, and they don't have any issues. I'm happy that I'm able to be myself without any questions."
In the time since Freedia launched her solo career back in 2000, she has since snagged her own reality TV show on Fuse: Big Freedia Bounces Back, which starts its seventh season this fall. "It's going to be pretty juicy," she says. Freedia also had the monumental opportunity to collaborate with Beyoncé on her anthemic single "Formation." Oh, and she also happens to hold the Guinness World Record for assembling the largest movement of sustained twerking in world history.
One thing that is inextricable from a Big Freedia show is her hometown roots. "New Orleans carried me for many years, and still does," she says. "It's helped me build my character, my personality and the music that I create." One of the thousands displaced by Katrina, Freedia slept on an overpass, but rallied to help restore the community that raised her. "When I got back on my feet, I was one of the first people to come back and help rebuild New Orleans."
She recalls performing all over the world before those that lived in New Orleans to bring "a sense of home" to those impacted by the Katrina tragedy. As a headliner at the Utah Pride Festival, she's bringing New Orleans—and a master class in her unique brand of ass-shaking bounce music— (that of the non-Yoncé persuasion) to the Beehive. Freedia's headlining of the Pride main stage on Sunday not only solidifies the local festival's standing as one of the West's most prominent, but also shows our appreciation for expanding our musical horizons. It's no stretch to imagine bounce music pumping from car windows of every downtown block party after Freedia performs.
As our conversation winds down, I tell Freedia that our Pride festival is known for attracting the most party-hungry crowd around. "I'm super excited to get there and show my pride," she says. "We're going to make people come together. It's gonna be a good time—don't you worry."