Page 3 of 7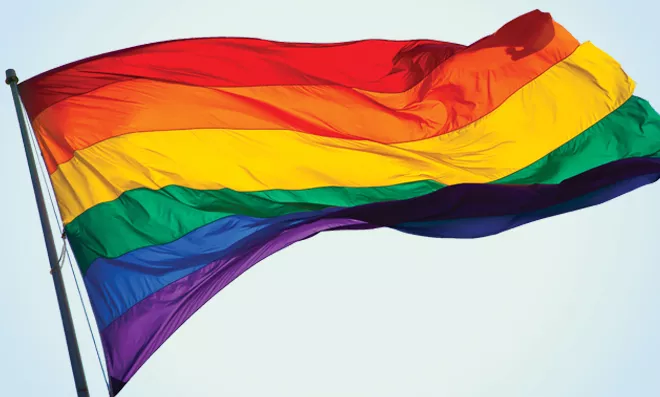 Today, I Celebrate
Local equal rights crusaders look back on significant milestones.
By Carolyn Campbell
Pride has many facets. One of its biggest elements is celebration, says Liz Pitts, Utah Pride Center events director. "Pride is a time when LGBTQ people, and their friends, family and allies can come together and take time to enjoy the community we have built," she says. "So much of what we do every day is activism and coming out. Pride is a time to relax and enjoy, to celebrate our sexuality, each other and the accomplishments of this diverse community." The following profiles feature people from the LGBTQ community who are also enjoying other significant celebrations at this time of Pride.
Shane Frazier: celebrating acceptance
Frazier is celebrating acceptance. He plans on attending Utah Pride for the first time this year. Frazier is a 22-year-old political science major at Mormon-owned BYU. When his religious beliefs came at odds with his sexual orientation, he says he originally experienced depression, anxiety and suicidal thoughts.
Within the last year—and in order to help prevent future suicides on the part of others—he spoke openly both about being gay and facing mental illness in a video interview with LDS Daily. "I was hopefully able to show people that there is nothing wrong with being gay or with having a mental illness," he tells City Weekly. "You are not broken; there is nothing wrong with you and you are loved. As hard as these things have been for me and even though I struggled with my relationship with God, I feel that he gave me these opportunities to help other people."
Frazier is currently a member of BYU College Republicans and hopes to work toward positive reforms within the Republican Party and the LDS faith.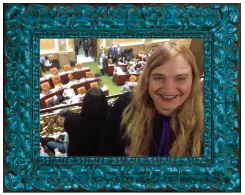 Sophia Hawes-Tingey: celebrating her mayoral candidacy
Hawes-Tingey is running for mayor of Midvale. If she wins, she'll be the first transgender mayor of a Utah city, and the second time she's made headlines. Back in October 2014, she and her partner Danilynn Tingey, became the first legally recognized trans-lesbian couple in the state.
"The distinction will be that people will have the opportunity to know that a transgender person can serve and can serve well," she says. "We've come a long way since the time when it was thought that if your internalized identity didn't agree with your outward gender, that it was a disease that needed to be cured." She clarifies that being transgender "isn't why I run, but for a certain population, it's why they want to support me." She feels her political experience, her recent appearances in the Vagina Monologues at Westminster College and the University of Utah, and her approaching fourth wedding anniversary, all have contributed to this new chapter, and are worth celebrating. She concludes: "Pride is actually founded in the sense that we can—and should be able to—take personal pride and personal self-compassion in who we are and who we love. We have the right to take that pride."
Joshua and Jason Tiedeman-Bell: celebrating their fourth anniversary and second baby adoption
Since he was a kid, Joshua Tiedeman-Bell always wanted a big family. "I was an only child. My dad was LDS and it seemed like everyone else had a bunch of siblings," he says. As a gay man, he originally thought his dream would be just that.
Then everything fell into place after he met Jason Tiedeman-Bell, through friends from Disney Cruise Line, where they both worked at different times. They quickly realized their family goals were in synchronicity. "One of the very first topics we ever discussed was 'do you want kids?' A family was something we both always wanted," Jason says. They married in 2013 and pursued their dream of having a family through the California state foster-care system.
They first adopted Landon, who will be 2 in June. The parental bug having kicked in, Aidan, now 10-months-old, followed. "As soon as I saw him, I fell in love," Jason says. Joshua works from home for an Orem-based software company. A nanny holds down the fort during the day, but he's able to bond with the kids during his lunch breaks.
The challenge of caring for two kids in diapers who can't quite communicate what they want yet, hasn't dimmed the idea of continuing the pursuit of his Brady Bunch-worthy family plans. "We have two boys now and hope to eventually adopt two girls," he says. Last month, the couple hosted a soirée to commemorate their fourth anniversary and the finalization of Aidan's adoption.
Obsidian Healy: celebrating her 16th birthday at Queer Prom
Healy came out to her family when she was 12. She and her mom passed each other on the basement stairs as they rushed to get ready to go to a play at Hale Centre Theater. "I could tell she was visibly upset, her mom, Liz Healy, says. "We both sat down on the stairs and she said, 'Mom, I need to tell you that I'm gay.'" Liz replied, "Get your shoes on. We're going to be late."
Obsidian's parents accepted her sexual identity in the same way they'd embraced her self-imposed name change from the original Megan. "We're not LDS; maybe it was easier that she didn't have the cultural stuff to deal with," Liz Healy says. "And it's not that I always thought she was gay, although she was tomboyish, and usually wore her hair short and dressed in basketball shorts and T-shirts. What I'm saying is, it didn't surprise me."
Despite minimal fanfare and drama in her coming out, Obsidian suffered her share of adolescent struggles, including coping with anxiety. In response, she started the first gay-straight alliance club at her school. "She's a force to be reckoned with," her mom says. On April 22, Obsidian celebrated her 16th birthday—and the fourth anniversary of her coming out—at Queer Prom, sponsored by the Pride Center and held at the downtown Salt Lake City Library. With a palpable energy in the room, and surrounded by her peers, the milestone was one for the books. "The drag queens called her up onstage and sang to her. She had an amazing night," her mom says.
Jacob Dunford: celebrating togetherness
As a closeted gay student at BYU, Dunford spent many nights alone. On a particularly difficult night, he put on his running shoes, ran out of his dorm to a big grass field, sat in the middle of it and started to cry.
"Back then, I didn't even feel that I could cry in front of anyone. I thought they might guess my little secret," he says. Dunford came out to his parents before leaving on his mission. "They said I could still go if I wanted," he says. So he went. "It was when I got home that things got a little harder. But I always had my family's support, even when I stopped going to church."
At that time, he decided he wanted persons like himself to be totally supported by their families the way he was. Today, he works for Encircle LGBTQ Family and Youth Resource Center, located in a renovated 1891 home in Provo. "Our slogan is 'No Sides, Only Love,'" he says. "We choose to love everyone who walks in the door, no matter what they want or who they are. If you are a mom who is conservative LDS and your daughter came out as lesbian, this is one place that feels as comfortable as your own home.
He describes Encircle as an initiative to keep families together through the tough threads that often are commonplace in the gay experience.
"We see a lot of homelessness—physical homelessness, but more often emotional homelessness," he says. "We see plenty of people who feel they aren't welcome anywhere. We feel that is because of a misunderstanding. We can be a place that is a bridge toward understanding." At a conference for LGBTQ Mormons, a woman approached Dunford with a defensive attitude, asking, "What does Encircle think I should do with my child?" Dunford grabbed a picture frame that showed the Only Love motto and the woman started to cry. "She came to Encircle and is now seeing a lot of progress with her daughter and her family." Encircle offers support groups, counseling, referrals and fun stuff for youth. "It's amazing what you can do when you have a place where you can talk about the gay thing and it's not a big deal." He adds, "What we really celebrate is families. We don't pretend to understand what family is. There are a lot of LGBT kids whose families are struggling. As a gay guy, I understand how hard this is on the tender parts of your soul. But everyone deserves a group of people who cares about them. When you are at Encircle, you see all the other moms, dads and high school kids. We're such a simple organization, but our impact has been huge."
Ann Pack: celebrating her transgender journey
Pack felt that the scariest part of admitting she was transgender was that it seemed like nobody stayed married to their partners. "I felt that if I told, I would lose my family and friends and no one would want to be in a relationship with me." So, prior to her transition, she did the her best to suppress the truth. She and her wife adopted a little girl who was the center of their world. "I felt that if I just acted manly enough, it meant I was a man."
Throughout their marriage, her wife would find stashes of her female clothing, "I could understand her view that if she married me and we were going to be an eternal family, I was now taking that family and destroying it. We knew this gender stuff was a problem we needed to face," she says. For a while, they accepted the idea that it might just be a crossdressing phase. "For both of us, that felt a lot safer," Pack says. Soon after, she came to terms with her reality. "I joined a support group for crossdressers in Salt Lake," she recalls. "The other men would have their evening out as an alternate identity, then go back to being male. Whereas, after I got home and I'd have to go back to being a guy, I would cry."
Eventually, she told her wife that she was transgender. As a first call to action, they introduced their daughter to transgender friends of theirs. "She had a foundational knowledge when we told her," Pack says. "She was scared that we were telling her we were getting divorced. I said, 'We're not. We're trying to figure this out together.'"
Today, the Packs have been married almost 18 years. Like many Utah couples, the balance between faith and self-acceptance has been a particularly tough one. "It is hard for both of us. We don't necessarily get everything we want. There has been a lot of compromise and we are trying to meet each other in the middle somewhere. Right now, it is working well for us." Last year, Pack was part of the Pride parade with her wife and daughter alongside the Mormons Building Bridges group. A good problem to have this time around, she says, is not knowing which group to march with. "There are so many groups, like Mormons Building Bridges, Affirmation and others," she says. "I know I will march; I just haven't quite decided who I will march with."
Mike and Spencer Twede: celebrating being gay and Mormon
Dressed in white shirts—like they wore on their missions—and rainbow ties, Spencer and Michael Twede held the banner leading off the Mormons Building Bridges contingent in last year's Pride parade. "For us, this is a different kind of mission, an opportunity to send a message to people in our lives that there is space to be both Mormon and gay," Mike says. They are both important pieces of who we are and we shouldn't have to hide one to have the other."
Both served Spanish-speaking missions in California. They met at USGA, (Understanding Same Gender Attraction), a support group that originally met in the BYU Law Library. "Both LGBT people and straight people attended and it was the right place for Spencer and me at that time," Mike says. After one such meeting, a high school friend invited him to go to the library and hang out. "That is where I met Spencer. I stalked him like crazy on the internet, and found his number on Facebook," he recalls.
A text led to their first date the following week, and six months later they became engaged. Seven months after that, they married. "Our initial plan was to wait a year and go to California, where we were missionaries," Spencer says. But when gay marriage first became legal in Utah in 2013, the men decided to seize the moment.
Saying they fully embrace "everything we've learned, experienced and felt as Mormons," the couple continues to attend church. "Our stake president has been warm and welcoming," Mike points out. "We are able to participate in a lot of different ways and we like to be as involved as we can."