Page 5 of 7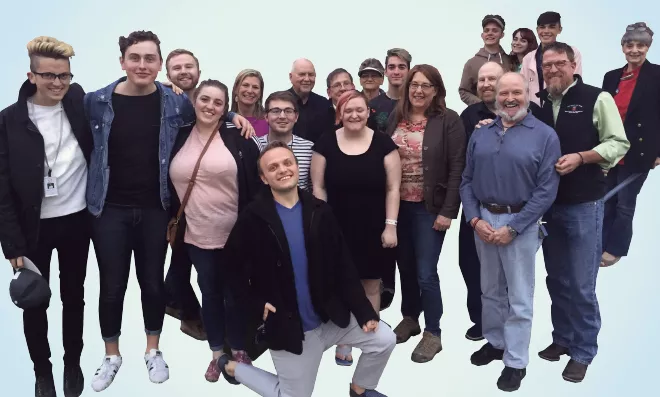 Sage Advice
Group of elders aims to bridge the LGBTQ generational gap.
By Andrea Harvey
Charles Hoy-Ellis was 15 years old in 1975 when he told his family and friends that he was gay. Rejected by his Southern Catholic parents and relentlessly bullied by his classmates, he eventually dropped out of school and moved to Seattle to start a better life.
Among the many things he left behind was a secret: His brother was gay, too, but decided not to come out after seeing the way that Hoy-Ellis was treated.
It wasn't until 20 years later that the brother's secret was finally shared—in a suicide note found by his parents.
This was the turning point for Hoy-Ellis, who decided to pursue a career helping people like his brother. It was a different world back then. But although the nation has evolved in terms of LGBTQ rights, many of the people who grew up in that decade or earlier are still living in the past.
The unique issues faced by aging queer adults have been historically overlooked—and that's one of the many battles SAGE Utah has been fighting.
Recognizing that the larger LGBTQ movement wasn't paying much attention to the needs of its elders, the national, New York-based organization SAGE (Services & Advocacy for GLBT Elders) was formed in 1978, and has since branched out to 20 states in the U.S. Utah was one of the first.
Under the wing of the Utah Pride Center, SAGE Utah's mission, in a nutshell, is to improve the quality of life for local LGBTQ adults over 50 by addressing five key needs: social, emotional, physical, mental and spiritual. They do this through outreach, education, advocacy and social events.
While the LGBTQ rights movement has come a long way, the milestones are relatively recent. Among the elderly, many of the earlier conservative social values have remained unchanged. So for the queer community, stepping foot inside a senior center, nursing home or assisted living facility can feel like going back in time.
Andrea Harvey
"Socialization is really important because older people tend to get isolated, especially if you're gay," SAGE Utah's Richard Starley says.
"We've heard, nationally and locally, that [senior facilities] are not very welcoming to gay seniors," Richard Starley, head of the SAGE Utah board, says. "They always say it's the other residents who aren't comfortable. You have to think in terms of generational issues here. The people around you grew up in a time when being gay wasn't acceptable."
The list of problems faced by the aging gay community is lengthy. But social isolation is at the top.
LGBTQ persons in assisted-living facilities or nursing homes are particularly at risk of social isolation and its emotional repercussions, especially when lack of independence is factored in. Starley says SAGE makes a point to visit these facilities regularly to provide emotional support and caregiving when possible.
"It's a difficult thing to do, but it's an important thing to do," he says. "When you become ill or vulnerable, you tend to go back in the closet a little bit. You don't let everybody know you're gay."
SAGE tackles the isolation through education, outreach and advocacy aiming to help facilities better understand and serve their LGBTQ residents. That can start with something as simple as including more representation of same-sex couples in their pamphlets, to make them feel more welcome.
"When you're not seeing yourself represented," Hoy-Ellis says, "at best, you're invisible, which isn't helpful. At worst, you don't matter, and that can be detrimental."
Now an assistant professor at the University of Utah's College of Social Work and an investigator for Aging With Pride, Hoy-Ellis has researched and studied these issues for years, and says that LGBTQ elders are at a high risk of suicide, though the data are hard to collect.
This year, for instance, the Trump administration removed all questions regarding LGBTQ elders from the National Survey of Older Americans Act Participants (NSOAAP). "Data and research are more crucial than ever to identify and address the impact of discrimination and stigma in areas ranging from health care to housing to employment," read a press release from the national SAGE organization.


Both Hoy-Ellis and Starley admit, they're still learning as they go along. It's an ongoing process.

The local group collaborates with other organizations such as Salt Lake County Aging and Adult Services, and Utah Commission on Aging. But the latter, Starley says, didn't welcome SAGE until recently—an all-too-common roadblock in conservative Utah.

Despite the challenges, SAGE Utah has thrived. Their budget is tighter than before, yet they're more active than ever, thanks to the efforts of dedicated volunteers like Starley.

This year's Pride Festival will have numerous accommodations for seniors and those with disabilities, including a discount, wheelchairs and a wheelchair-accessible float in the parade—all part of SAGE's push for more inclusivity.
They're also now hosting an event every month—"a big step forward for this little group," Starley says. From group dinners to classes featuring guest speakers, these gatherings provide a supportive space for local LGBTQ elders to broaden both their minds and social circles. Their biannual potluck sees a turnout of around 300.
Most recently, SAGE members traveled to Provo for a gathering with the LGBTQ youth of Encircle. Over pizza and soda pop, people from all walks of life with one thing in common swapped stories for three hours. At some points, the room was so full that it was hard to move; at others, the laughing so loud that it was hard to hear.

Despite differing experiences, opinions, religions and ages, not a single voice went unheard. And that is what SAGE Utah is all about.