Page 7 of 7
Pride of the Bar
For a change of pace, we ask bartenders about themselves.
By Randy Harward
Bartenders might be therapists for the desolate, but have we ever asked them about their days? In advance of the weekend, when the city's LGBTQ barkeeps are gonna be workin' hard to make the celebration special for everyone, City Weekly thought it'd be a good move to listen to them, for a change. Work commutes that stretch state lines, sweet texts and soaked drag queens—these war-torn booze-slingers have experienced it all.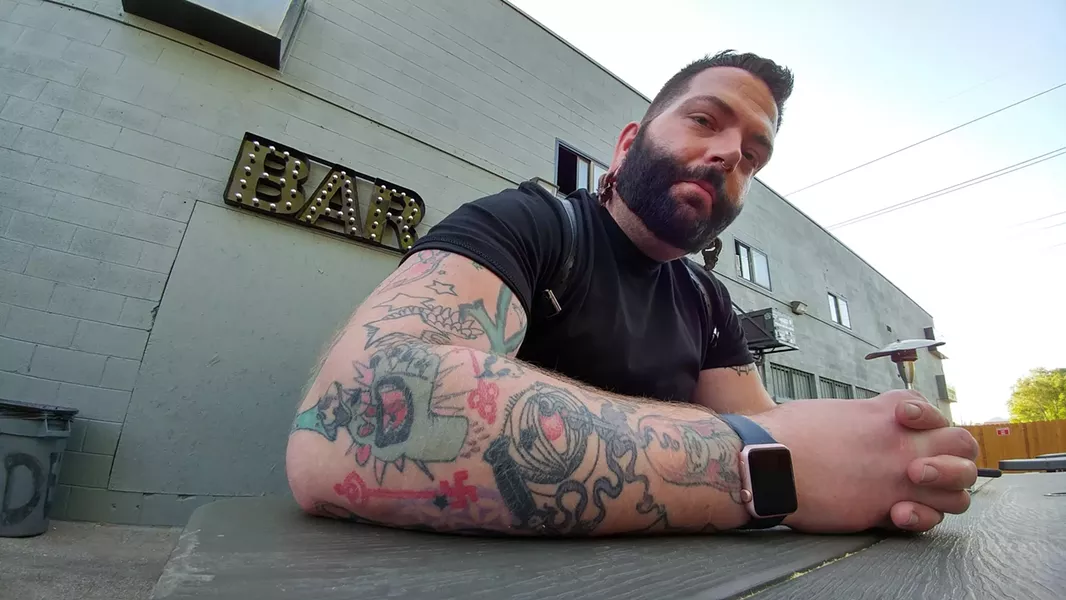 Michael Elliott, Metro Music Hall
At 6 feet 3 inches tall, with thick tattooed arms and heavy bronze rams dangling from his stretched earlobes, Michael Elliott, 32, looks more like a bouncer than a bartender. But he's a gentle giant, soft spoken, mellow and considerate—even outdoors, at a picnic table on the Metro's patio, he asks permission before smoking. Born and raised "pretty much all over" Utah but mainly in Ogden, he moved to Salt Lake City as a young adult. He's worked in the customer-service industry, mainly restaurants, since he was 16. "I kinda just lucked out, getting into bartending," he says.
One night while at partying at the Metro's old location on the corner of 200 South and 600 West, Elliott told the management, "Hey, I'll sweep your floors, I'll mop, I'll do security, I'll do whatever I can—I'm just lookin' for a part-time job." By the week's end, he worked his first shift behind the VIP bar on a Saturday night. "They fed me to the fish," he says, explaining he had only a basic knowledge of bartending from working in restaurants. Within the first year, he became manager. Seven memorable years later, under new ownership, he's now the night manager—same job, he says, minus the 80-hour weeks.
His teetotaler status notwithstanding, Elliott excels at his work. The Royal Court of the Golden Spike Empire has voted him favorite bartender several years in a row. He's also enjoying a five-year run as favorite bartender in the Metro's own "Dance Evolution Evolvees" awards. He's known for his signature super-sweet drinks, like the Aphrodite, "a twist of sweet and tart with pomegranate Pama liqueur," or "five pounds of sugar and some magic."
He attributes his success to his mother raising him to reject prejudice. "It's ingrained in my psyche," he says, so he treats everyone the same, whether they're there for a drag show or a metal concert. And despite not being Metro's muscle, Elliott says, "I definitely think I have a big presence. Especially among the gay, lesbian and queer community. It's neat, how I kinda just landed into it, and it's turned into the supermonster that it is."
Most memorable customer? "They're all special in their own way," Elliott says, adding there have been many throughout the years who've become ingrained in his life. But one does stand out. "It's crazy how big of an impact a simple kind gesture or smile or hello can have on someone's day," he says. This particular customer recognized Elliott's kindness in a text: "I had the worst week of my life this week and you made it a bit better tonight," he wrote. "It's this kind of stuff that makes it all worthwhile."


David Willeitner, Club Try-Angles
It's approaching 8 p.m. at Try-Angles. The night is young, and 37-year-old David Willeitner—whom you might know by his drag name, Trynity Starr—is buzzing around the bar, laughing and teasing customers like they're old friends. "I never applied to work here," he says. One night, the joint was jumping and there wasn't a barback on duty, so Willeitner, then a visual arts and media student, offered to help. Thirteen years later, "I don't think they could get rid of me if they tried."
Like Elliott, Willeitner had restaurant experience but wasn't a trained bartender, so he picked up mixology on the job. Now he can make almost anything and what he doesn't know, he'll learn quickly. He never fakes it because, as assistant manager, "It's my job to be trusted when you come inside," he says. "If there's a problem, you need to talk to me."
Willeitner loves the social interaction that comes with the gig. "You have a lot of influence in people's lives," he says. A good day involves brightening someone else's be it by lending an ear or steering a nervous newcomer toward a group where he'll fit in. At the end of the night, if he's made people feel safe and comfortable, he feels empowered. That extends beyond Try-Angles' walls: Willeitner wants to follow owner Gene Gieber's example and give back to the community.
"My goal is to live as much in this atmosphere as I can," he says. He doesn't want to leave Try-Angles until, God forbid, something happens to it. If that happens? "I want to own a place that people feel safe and choose to help others.
Most unforgettable night on the job: While hosting a fundraiser for the Salt Lake Men's Choir as Trynity, Willeitner was bombarded with requests to enter the dunk tank in full makeup. The crowd egged him on with donations and raised more than $2,000. "So I got in there, hair and wig and everything. And there was a line of people on the patio waiting to throw balls at me."


Kirsten "K.T." Thomas, The Sun Trapp
Raised in a small, ultra-Mormon town, Kirsten "K.T." Thomas' backstory follows the usual arc, "especially after realizing I was gay and falling in love with a girl." She came out at 25 and says her immediate family was super cool, some staunch Mormon cousins notwithstanding. Now 33, the former Weber State marketing student is quick to note that her hometown has "evolved a lot" since then. While there wasn't much for a lesbian girl in Provo back in the day, now there are a couple of gay bars and even a Provo Pride festival. "It's just a little Sunday festival," she says. But it's a start.
Before landing at The Sun Trapp three years ago, K.T. worked at the Marriott for seven years and Hotel Monaco for two. "I love the sales-and-marketing side of things," she says. She studied the field at Weber State and plans to earn a degree in hospitality. Being service-minded, K.T. looks at her native Provo with acceptance and perceives that she sees more of that back home. "I love and respect the religion; I am who I am because of how I was raised," she says "There are people who can love their religion, and love me and love their community for what it is, and still live true to their values. It seems as though they're finally realizing that gay people don't really affect them: live and let live."
The tables have turned, in a way. It's not hard to accept Provo coming out of its prejudicial funk—just hard to conceive. "In that bubble, you get that kinda heavy energy. It's a different town, down there. But they're comin' around," she says. In the meantime, Thomas gets what she needs in SLC at the Trapp. "I love workin' here," she says. "There are no boundaries. Everyone's welcome."
Most memorable night on the job: One summer during Pride, someone let a Mylar balloon go—it got tangled in a transformer, causing a power outage in the bar. "Probably 100 people all just flipped their phones on, with their flashlights," Thomas recalls. They also provided music so the party could continue. It lasted only 10 minutes, but it felt like an eternity. "The second the music popped back on, the energy popped back up and everyone was having a good time."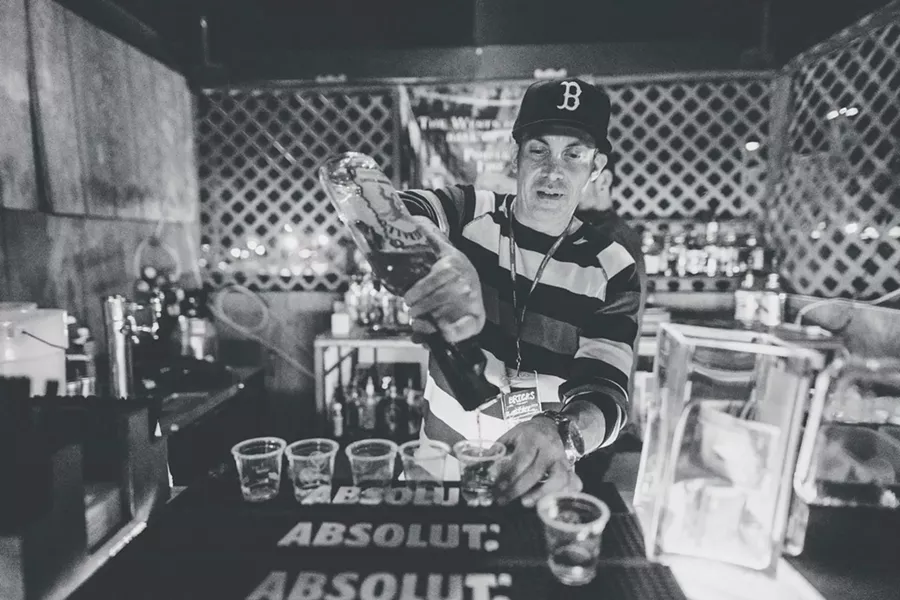 Brian Olpin, Kween
Inside Bricks, bartender Brian Olpin leads us through a dark labyrinth until we enter a door too short for most people. It's a dressing room/office, where drag performers and dancers prepare to take the stage during the venue's Friday gay night, Kween.
Raised in Heber City by adoptive Mormon parents, Olpin, 49, holds a degree in communication from the University of Utah and graduated first in his class in Salt Lake Community College's construction-management program. His first job was with a local homebuilder. "But when they found out I was gay, they told me I would not be paid as a superintendent, that I would never, ever have a promotion, and that I wouldn't be fired, but I'd be kept at a part-time level. And all other 28 employees got health insurance," he says.
So Olpin struck out on his own and started buying, renovating, flipping and renting properties. Today, he manages six rental properties. Bartending, which he's done in New York's SoHo neighborhood at a Chinese drag restaurant and at SLC's now-defunct Club Blue—and almost every other local gay bar—is about fun. This is clear by how he dances and engages with customers down at the bar. "I work in solitude during the week," he says. "This gets me out among people."
Given his previous work experiences, Pride is especially significant for Olpin. It was important to him back then, and it buoys him today. He gestures to the younger performers. "They don't have the trauma that my generation had," he says. "It's great."
Best Pride? "In the early days, Pride was very small," Olpin recalls. "People were scared to go. They were embarrassed to go. They had to have police protection." Around 2000, Olpin found himself on Blue's float in his "gay costume," feeling apprehensive. But he noticed the crowds getting thicker and thicker—with people on his side. "It was overwhelming," he says, tearing up. "Just a few years earlier, there wasn't anyone there to applaud. And now it's the second-biggest parade in Utah."


Kyle Lake, Club JAM
Remember the T-shirts they used to sell at truck stops in neighboring states that said, "Eat, drink and be merry—tomorrow you may be in Utah?" Well, sometimes it's better here. "I was raised gay in Wyoming," says Kyle Lake, 25. "It was really isolating." Without a community to foster him, he was forced to learn about queer culture from the internet and documentaries like Paris Is Burning.
That wasn't enough. Neither were the bars at home. "I didn't like to go to any of those because it's just always trouble," he says. At 18, Lake began moving back-and-forth between Salt Lake City and Rock Springs. At 21, he'd get off work at 9 p.m., then drive three hours just to hang out at Jam for an hour before closing.
A year ago, the club gave him a job. His first night was Jam's LDS Conference Weekend party. "I did two of those," he says. "I've worked three Elevation Gay Ski Weeks, and this will be my third Pride." As a reveller, however, this is his eighth Utah Pride.
In spite of our thriving gay community, the irony of making his home in conservative SLC isn't lost on Lake. "It's been really hard, being the way that I am," he says, gesturing to his tight, revealing clothing and saying it's been a problem when the DABC pays a visit. Like many, he's perplexed by the red tape involved with SLC bar ownership. "It almost feels like we're being oppressed, in a way." Then again, he could be in Rock Springs.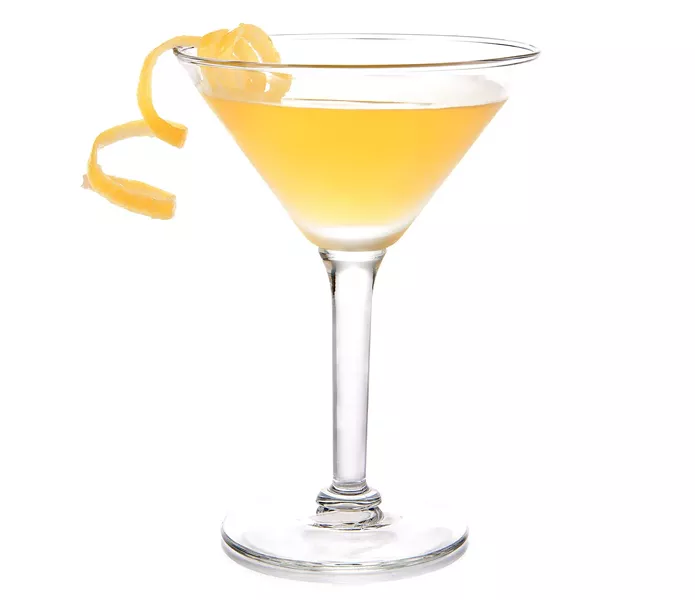 "I'm here every weekend," Lake says. "This is my place where I get to come and express myself. I'm really grateful for that."
Signature drink: Lake is the creator of Kay Byee's Sourpuss. "That's that drag queen, right over there," he says, pointing over my shoulder. "It's Absolut Citron, limoncello, sweet-and-sour and Sprite. It's basically a big lemon drop."