When Alex Florence became his true self, the change meant navigating a new identity at his job at Hill Air Force Base. Before, while he was female, engineers came into his cubicle and talked to his cis male cubicle-mate first. Now the roles are reversed. "The engineers come and talk to me first, even if it's about something I'm not actually working on," Florence says. "I'm not used to that; there are certain things I still struggle with socially." He's still becoming accustomed to looking another man in the eye while shaking hands. Or talking about cars and sports. "Their humor and banter I don't really understand," he confides. "I kind of handle it every day while trying to fit into the male world. I live in an outsider's perspective. Sometimes there is a conflict of where I will fit in socially." He says that he loves being who he is—a happily married person whose body and mind finally match.
Still, he says, "Trying to see both sides of things sometimes puts me into a weird gray area. Sometimes, I'm a little bit lonely."
Florence wanted to keep the traits he prized as a woman—being understanding, compassionate and caring. "Some trans men go so drastically on the male gender side that they become a little bit aggressive," he says. "I didn't want that for myself." Florence's wife, Christy, says he's always been very tender, caring and respectful, "more than I ever experienced in my previous marriage." She adds that while those traits have held strong, she also helps him through the "struggle in his head" that constitutes gender dysphoria—the distress an individual feels about the mismatch between their gender identity and their assigned sex. "It's usually over his body image or how clothes fit him and how he sees himself in the mirror," she says. Alex intervenes. "While I didn't feel it was the death of one identity and the birth of another, I still had to figure out how to integrate both of them." He feels that because he was a woman for 30 years, his adjustment was greater than the increasing number of transgender teens who come out and transition earlier in life.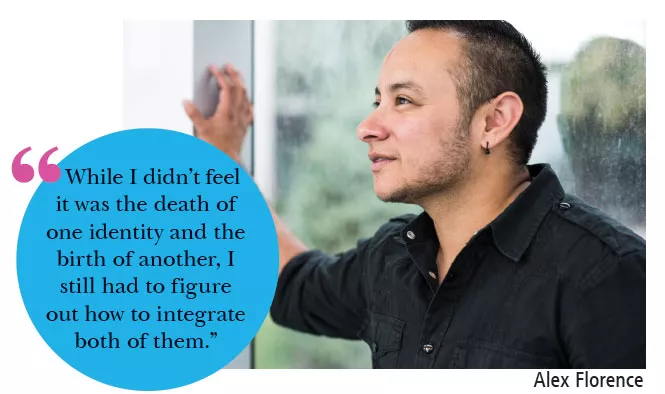 By the time he was 16, Grayson Moore's consistent panic attacks interrupted his ability to do school-work. His mother, Neca Allgood, recalls taking her son to a neurologist, fearing he might have seizures or a brain tumor. Yet his symptoms were actually caused by gender dysphoria. Once the mother and son figured out that Moore was transgender, the distressing symptoms backed away. Allgood says that while it is common for parents of transgender youth to feel that they have "lost" the child who transitioned, "Grayson was struggling so much before we figured out that he was transgender, that [his transition] was like 'getting my bright, happy, creative child back.'" Now 22 and a linguistics major at the University of Utah, Grayson expresses gratitude for his early transition. "Quite frankly, it was a life-or-death difference for me. Seeing the trajectory that my mental health was on, I might not have survived. I could have harmed myself." Now he is in a much more positive space. "Once gender dysphoria wasn't eating so much of my brain space, I had room to just be me and live my life and grow. There was room for other things, like writing a novel, doing half marathons and playing the piano." For years, Allgood had seen masculine behavior from her then-daughter. Frequently, in public, Grayson, then Grace, was mistaken for a boy. "He liked it and it made him sad when a family member corrected the person who did that," Allgood says. Moore transitioned midway through his junior year of high school, after he had already taken college classes and was a National Merit semi-finalist. Allgood says that they monitored his information carefully, to let National Merit officials know that although they might receive materials under two different names, Grace and Grayson were actually one person.
The term "transgender" was coined by Columbia University psychiatrist John F. Oliven in 1965. At its simplest, it's a term used to describe people whose gender identity differs from the sex stated on their birth certificate. Gender identity is a person's internal, personal sense of being a man or a woman (or someone outside of that gender binary). For transgender people, the sex they were assigned at birth and their own internal gender identity do not match. According to the GLAAD.org website, trying to change a person's gender identity is no more successful than trying to change a person's sexual orientation—it doesn't work. So most transgender folk seek to bring their bodies more into alignment with their gender identity. The term also describes anyone who deviates from the social norms of their biological gender, such as people who alter their bodies with surgery, hormones or both. Many transgender individuals take prescription hormones to change their bodies. Some undergo surgical procedures as well. But not all transgender people can or will take those steps, and being transgender is not dependent upon medical procedures.
People in the transgender community might describe themselves using one or more of a wide variety of terms, including (but not limited to): transgender, transsexual and genderqueer. Intersex people, those born with ambiguous genitalia, are usually considered separate from transgender. Cross-dressers are people of one gender who wear clothing of the opposite sex. Contrary to popular belief, they don't necessarily desire to be the opposite gender.
When Sophia Hawes-Tingey, director of Judiciary Committee at Women's State Legislative Council of Utah, moved to Salt Lake City in 2010, she discovered more transgender support groups here than she'd found living elsewhere, such as in Kentucky or Texas. She also feels that last year's passage of Senate Bill 296, a non-discrimination bill which states that employers and people in various capacities having to do with the management or sale of residential property cannot discriminate on the basis of gender identity and sexual orientation, has made it easier for people to be out and transition at work and be themselves. She adds that former athlete and Kardashian spouse Caitlyn Jenner's transition "opened up a curiosity" about being transgender. In its July 2016 issue, Sports Illustrated described Jenner as the most famous transgender person in history, calling her an example to the 700,000 other transgender people living in the United States today.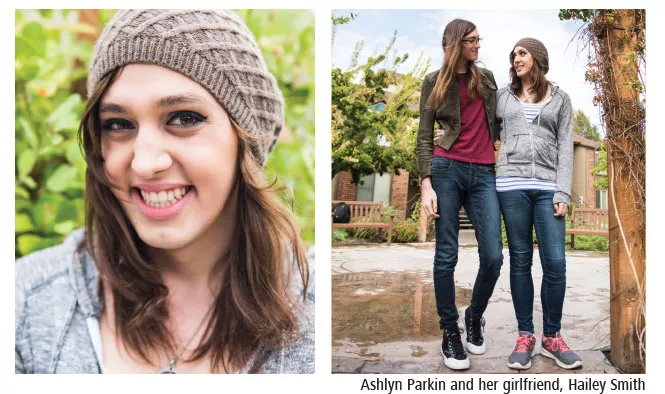 As part of her journey, Hawes-Tingey says she initially tried to decide what makeup and clothes were appropriate to wear to work and to wear after hours. "I went to Ross, which was open and accepting, to start looking for things," she says. "Some clothes made me look like a grandma. I really didn't like the overly feminine, girly things. I preferred clothes that were more elegant and form-fitting. I'm a business-casual kind of person."
In the years following her transition, she has had three makeover sessions, bought a book on makeup and learned about makeup at belly dance lessons. "It's a learning process, and you have to do it all over again," she says. She began seeing a counselor in 2007 and underwent hormonal therapy a year later. She was out full-time on the job in 2010, working at Fort Knox in Kentucky. "At work, when my name-change was processed, the system couldn't accept a change of first name. It seemed to imply that I was the first person to transition on a military installation since they had created the Army.mil website information system." In 2011, she had surgery. Today, she says, her body has changed to the point where "Even in male clothes, I can still pass as female."
Candice Metzler, executive director of Transgender Education Advocates (TEA) of Utah, says that the state's transgender community is both growing and broadening. "The transgender world is incredibly diverse in all the different ways that people claim and experience their gender. We are starting to understand what that all looks like," she says, adding, "It's exciting to see the transgender community growing and people increasingly getting out there and taking their lives new places." The TEA organization participates in educational workshops for churches, schools, public offices, private employers and anyone who wants to learn more about human gender variance. They advocate for people who are experiencing difficulties in government, public offices, employment, housing and other areas of discrimination.
Historically, Metzler says, many people have experienced much distress around their experience of transition. "Now we are seeing more and more people successfully finding ways to live their lives. There is a larger diversity of voice as far as people having different experiences, with descriptions such as genderfluid and genderqueer." While Metzler points out the transgender community has grown, "the hard part in making a statement like that is that a lot of the people were already there, but we didn't know about them because they weren't out yet," she says.
Metzler says there are stories of people being uprooted and needing to reclaim their lives. "For some folks, that goes pretty well and they have a general acceptance from people who are close to them," she says, and adds that fewer young people are losing the connection with family and friends. "That aspect of life has gotten better."
She also says the opportunity to talk to older people has proven to be invaluable. "We still hear stories about people being arrested back in the '90s for wearing the wrong clothing for their appropriate gender, for their clothes not matching the gender on their driver's license. If you were walking down the street, you could be thrown in jail," she says. "We don't hear those stories anymore."
When Sara Jade Woodhouse transitioned in 2005, she felt there really wasn't much of a trans community in Salt Lake City. "There was a drag community, largely composed of gay men and lesbian women who did drag," she recalls. A year or two later, during a time when TEA was offering outreach and education, that changed. Woodhouse says some youth groups have come and gone, and an influx of Mormon transgender people have formed groups. "It's much larger than when I transitioned, but we still have a long way to go. A lot of transgender youth still don't know where to go, and there is no common knowledge that there is help out there for them," she says.
Over a decade into her transition, Woodhouse says it still remains hard to date, not just because she lives in Utah, but also because she hasn't gone through gender-reaffirming surgery yet.
"It sabotages any opportunity I have," she says. "I'm not going to let it get too intimate. What if [a potential partner and I] get serious? If I enjoy a kissing situation, I still have a little stubble, because I haven't had all of my electrolysis yet, and I worry about things like that." She says she used to meet people by going to dances or clubs. "I had a profile on a trans dating website and every single person who contacted me said, 'I've always wanted a girl with a little something extra. To me that is perverse. I don't want you to be interested in that part of me that I can't stand, because I want it gone." When she has dated, "it has always ended after one date and not been very productive," she says. "I would love to be done with my surgery; I would be much more confident in going out and meeting people."
The experience was different for Hawes-Tingey. She says her current wife "started chasing me when we were both appearing in The Vagina Monologues. I thought she was flirting with everybody, but it turned out she really just wanted me," she recalls. "Other trans people wanted to date me, but we decided we were actually good for each other and needed to be there to help each other."
While dating remains difficult, Woodhouse has never had a problem using the women's dressing room or locker room. "What bothers me is the clothes don't fit me like they should. It's a constant reminder that my body is not what it should be. Someday, it will be. I hope, before I die." Woodhouse currently teaches junior high. She has also taught at Salt Lake Community College and appeared in films. She says that her college students never bring up the fact that she is transgender, but if a junior-high student does, "We need to address it. So I do, and we move on. I say, 'That's not my name. You can't call me mister. I won't answer to you.'" She says that for every student that is rude, 10 are her champions. "I have a Facebook page and a blog that anyone can access," she says. "I've acted in films that people can see. I'm not a very private person."
She hesitates to speak for all trans women, but says, "Quite a few of us go the extra mile to express even more femininity; we have to be über-feminine. Some people, when they transition, go through a second puberty and buy clothes that don't fit their age. When I first transitioned, I dressed way too young, wearing very short skirts. After about a year, I probably dressed my age."
Ashlyn Parkin first encountered the word "transgender" when she was 12. "As I read the term, I became more and more afraid. Everything that was in that term I directly related with," she says. "When I was in puberty, I would look in the mirror and pick out features that were masculine and realize that I didn't identify with them."
When Parkin was younger, she cross-dressed, trying on her sister's clothing. "I never really got a sexual pleasure from it. Instead, I would feel at peace inside," she says. Shopping in women's stores, "I felt petrified that a woman would come up and ask, 'Why are you here'? I was nervous that something would happen. Eventually, I bought stuff online, although it was hard to guess my size at first." Like Woodhouse, Parkin says that trans women often hold themselves to a high beauty standard. "You are constantly clocking yourself, thinking, 'My chin is so square,' or 'Am I walking correctly?'" She says that makeup was liberating, "because I could change and contour my face into something I could view as feminine right off the bat. I still love wearing makeup and probably still put on a little too much eyeliner."
From the day he decided to transition in 2015, TEA board chair, Lucas Fowler, never again wore female clothing. He planned to save his women's clothes for a clothing swap but, instead, put them in front of his house at the time of the neighborhood curbside cleanup. People took them before the official cleanup started. He was especially glad to stop carrying a purse. "I hated the fact that women's clothes don't have pockets," he says. While transitioning, he bought cargo pants. "Pants go with you everywhere—you don't leave them behind like a purse." Fowler says that some trans men initially seek to achieve a flat chest by using Ace bandages which can cut off circulation. He confesses to wearing a binder. Some transgender men or gender-nonconforming individuals use binders, compression undergarments that look like spandex-y T-shirts, to bind the breasts to the body, creating a flatter chest.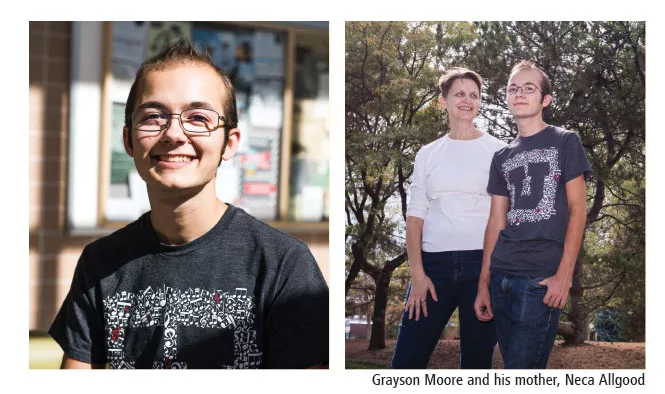 Speaking on her former wardrobe, Hawes-Tingey held a ceremony proclaiming, "These are my male clothes for my male self—we are done," she says. "I needed a clean shift. I maybe made room for a coat or tennis shoes, but still, practically everything I own is women's wardrobe."
When Fowler recently needed a hysterectomy to treat endometriosis, he visited his gynecologist. "I'm the only guy in the gynecologist's office who has an appointment. The other guys are all there with their wives," he says.
When he handed his ID to someone behind the desk, he remembers her saying, "We don't need his ID, we need his wife's ID." Then someone else behind the desk understood the situation and took over. "That set the tone for all the other interactions—from that moment on, everyone tried to get everything right. They always called me Lucas, and what could have been a stressful situation became calm and straightforward."
While Fowler's experience in seeking his hysterectomy eventually proceeded smoothly, Hawes-Tingey says that seeking gender confirmation surgery remains difficult without insurance providers covering it. She's seen people use GoFundMe accounts to pay for operations. "You can use health savings accounts; Thailand has offered loans for people to go have surgery," she says. "As a software engineer, I borrowed from my retirement and have yet to pay it back."
She continues, "Medicare is working to provide coverage for people in this next round. I would like to work on legislation stating that insurance companies aren't the final arbiter on what is medically necessary." Fowler comments that some companies, such as Point5CC.com, a trans clothing company, offer scholarships for those seeking surgery, but all such stipends that he is aware of offer smaller amounts than the actual cost of the surgery. He adds that in places like the U.K., the health system covers the cost of procedures.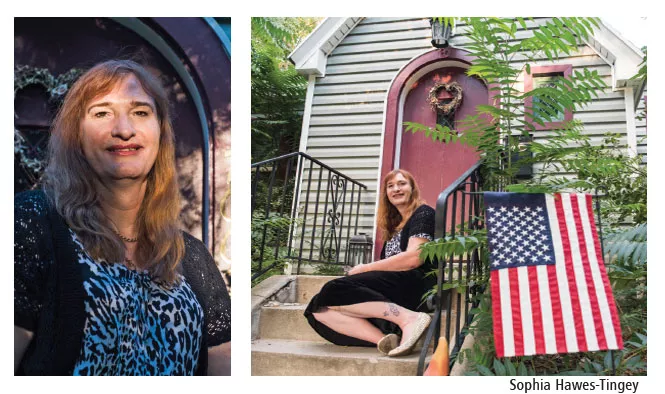 "We're talking about a lot of money out of pocket in a group that is discriminated against. Some of the surgeries are almost $100,000," he says. "I've seen people use their artwork in trade or to sell at fundraisers." Utah artist Noah Cherry is selling prints of his work to earn money for surgery. On August 18, Tabs Maclane Grantham hosted a fundraiser for his "top surgery," "to help me reach my goal to have a boobectomy (removing these hellacious chesticles.)" His Facebook announcement stated that all money collected from admission, raffles and silent auctions would go to surgery savings, with the official goal of raising $7,500 to cover the procedure and living expenses during recovery. He says, "Any excess proceeds will be donated to the next guy waiting for top surgery." The date was also his birthday, and he invited people to celebrate as well as becoming part of his transition.
Fowler adds that in addition to these options, sometimes people who can't afford it "will go other places and make risky health decisions." Many transgender individuals do not go through it for various reasons. Some cannot afford it and others don't want to undergo procedures. Allgood and others interviewed for this story explain that asking whether someone has had surgery is akin to asking about a person's private parts. Allgood says, "We don't ask the condition of other people's genitals. Would you want someone to ask about yours?"
Fowler's two children have been "raised around queer issues. They knew that my community is the queer community, and they have met transgender people and gone to the Pride parade." Possibly because of this, his decision to transition didn't affect them greatly. Today, they call him either Lucas or Mom. "At times—such as to a student from another school at my son's debate tournament, they've introduced me as their Dad." They switch back and forth on pronouns. "My older son might say, 'I think Mom wants his phone back.'"
Woodhouse says that people typically view her as a woman—except when she speaks. "My exterior is fine, but when I open my mouth, that's when they peg me. I was at Lowe's the other day, looking for a specific type of lumber. The salesperson got on the phone and said, 'He is looking for' and 'I will send him down,' and I said 'Her.' It happened a number of times and she never acknowledged that I was correcting her." She explains that all it takes is one instance like that to ruin her day. "I get up in the morning and convince myself that I look OK and I've done everything I can to be feminine and go out in the world, and all it takes is for one person to misgender me to ruin the whole day. You'd think that if someone shows up in front of your counter with long flat-ironed hair, a bra and obvious boobs, you wouldn't call that person 'him.'"
Despite the challenges, the people interviewed for this article feel that their efforts have been worth it. "Some people say that changing one's sex is very evil, but for me it was becoming at peace with myself and allowing me not to focus so much on myself anymore," Parkin says. "It's amazing that when you figure out your gender identity, which is an essential part of every human's psyche, when you align that with your mind, you are finally able to be at peace."