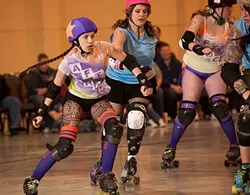 Unbeknownst to local "sports" media, Utah is now entering its eighth year of women's roller derby—with a handful of changes.
The Salt City Derby Girls, the OGs of local derby, are finally making good on last year's promise of becoming a banked-track league; ---Wasatch Roller Derby is now a traveling force to be reckoned with on the regional-competition circuit; Ogden's Junction City Roller Dolls have absorbed former rivals O-Town Derby Dames; new league Happy Valley Derby Darlins has launched in Spanish Fork; way down south, there's the startup Moab Roller Derby; up north, rec league Red Rockettes and men's league Uinta Madness are still rolling. Here are the 2012 schedules so far:
The Salt City Derby Girls haven't yet nailed down a permanent home for their new banked track, so they'll be going
really
old-school by setting up the speedy structure once a month at the Salt Palace (100 S. West Temple, SLC), just as their foremothers did on the road in the '60s and '70s. The SCDG travel team, the Shakers, will still compete on flat-tracks in and out of state; the home teams remain the Bomber Babes, the Death Dealers, the Leave It to Cleavers and the Sisters of No Mercy. Info:
SaltCityDerbyGirls.com
,
Facebook
.
> Saturday, May 5: Bomber Babes vs. Death Dealers - Recap

> Saturday, June 30: Bomber Babes vs. Sisters of No Mercy - Recap

[Remainder of 2012 season currently on hold]
---
Wasatch Roller Derby started their 2012 season in February, and recently made an impressive showing at the regional Big O tournament in Oregon (and outright won the Spudtown Knockdown in Idaho last fall). WRD's home teams remain the Black Diamond Divas and the Hot Wheelers, and they've created a second travel team in addition to their Midnight Terror: The new Bonneville Bone Crushers. Local bouts will be held at WRD's home, the Derby Depot (
1415 S. 700 West
, SLC
). Info:
WasatchRollerDerby.com
,
Facebook
,
Twitter
.
> Saturday, Feb. 18: Black Diamond Divas vs. Hot Wheelers - Recap

> Saturday, March 10: Black Diamond Divas vs. Hot Wheelers
> Saturday, March 24: Bonneville Bone Crushers vs. Magic City Rollers (Montana)
> Sunday, March 25: Uinta Madness Roller Derby vs. Magic City Rollers (Noon)
> Saturday, April 14: Black Diamond Divas vs. Red Rockettes Roller Derby - Recap
> Saturday, April 28: WRD Midnight Terror vs. Pikes Peak Derby Dames (Colorado) - Recap

> Saturday, May 26: Double-Header: WRD Midnight Terror vs. Treasure Valley Rollergirls (Idaho) / WRD Bonneville Bone Crushers vs. Treasure Valley Rollergirls (Idaho) - Recap

> Saturday, June 2: WRD Bonneville Bone Crushers vs. Portneuf Valley Bruisers (Idaho) - Recap

> Saturday, June 9: Black Diamond Divas vs. Hot Wheelers - Recap

> Saturday, Aug. 11: Hot Wheelers vs. Happy Valley Derby Darlins (Spanish Fork) - Recap

Sunday, Aug. 26: WRD Midnight Terror vs. Choice City Rebels (Colorado)
Saturday, Sept. 8: Black Diamond Divas vs. Hot Wheelers
Saturday, Sept. 22: WRD Bonneville Bone Crushers vs. Cheyenne Capidolls Roller Derby (Wyoming)
Sunday, Oct. 21: WRD Bonneville Bone Crushers vs. Foco Girls Gone Derby (Colorado)
---
Ogden's Junction City Roller Dolls have not only merged with the O-Town Derby Dames this year, but have also scored two big national-brand sponsors: Pabst Blue Ribbon (aka derby sport water) and Faygo (aka Juggalo Juice). The majority of JCRD's 2012 bouts will be held at the Davis Conference Center (1651 N. 700 West, Layton). Info: JCRDolls.com, Facebook, Twitter.

> Saturday, March 17: Aftershocks vs. Hilltop Aces - Recap


> Saturday, April 21: Hilltop Aces vs. Railway Banditas - Recap


> Sunday, April 29: JCRD Trainwrecks vs. Pikes Peak Derby Dames

> Saturday, June 2: Aftershocks vs. Railway Banditas at Golden Spike Event Center, 1000 N. 1200 West, Ogden - Recap


> Saturday, June 16: JCRD Trainwrecks vs. Happy Valley Derby Darlins (Spanish Fork) - Recap


Saturday, Aug. 25: Double-Header: JCRD Trainwrecks vs. Choice City Rebels (Colorado) / TBA

Saturday, Sept. 22: JCRD 2012 Championship Bout

Saturday, Oct. 27: Double-Header: JCRD Trainwrecks vs. Foco Girls Gone Derby (Colorado) / JCRD Halloween Bout
---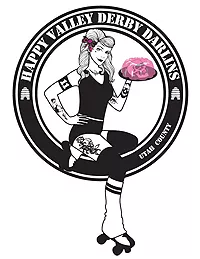 The Happy Valley Derby Darlins of Spanish Fork are holding most of their 2012 season in an old Food4Less building now rechristened The Roller Hive (784 E. Chapel Drive); home teams are Rollin' Rebellion and Sirens of Steel, and the travel team is the nicely named Molly Morbids. Info: Facebook.

> Saturday, Feb. 25: Rollin' Rebellion vs. Sirens of Steel

> Saturday, March 17: HVDD Molly Morbids vs. Nevada East Rollergirls at UCCU Center, 800 W. University Parkway, Orem

> Saturday, March 31: Rollin' Rebellion vs. Sirens of Steel - Recap


> Saturday, April 21: HVDD Molly Morbids vs. Moab Roller Derby (Moab)

> Saturday, May 5: Rollin' Rebellion vs. Sirens of Steel

> Saturday, May 19: HVDD Molly Morbids vs. Portneuf Valley Bruisers (Idaho)

> Saturday, June 9: Rollin' Rebellion vs. Sirens of Steel

> Saturday, June 16: HVDD Molly Morbids vs. JCRD Trainwrecks - Recap


> Saturday, July 7: Star-Spangled Beatdown

> Saturday, Aug. 11: HVDD Molly Morbids vs. WRD Hot Wheelers at the Derby Depot, SLC - Recap


Saturday, Aug. 25: Rollin' Rebellion vs. Sirens of Steel

Saturday, Sept. 15: HVDD Molly Morbids vs. TBA