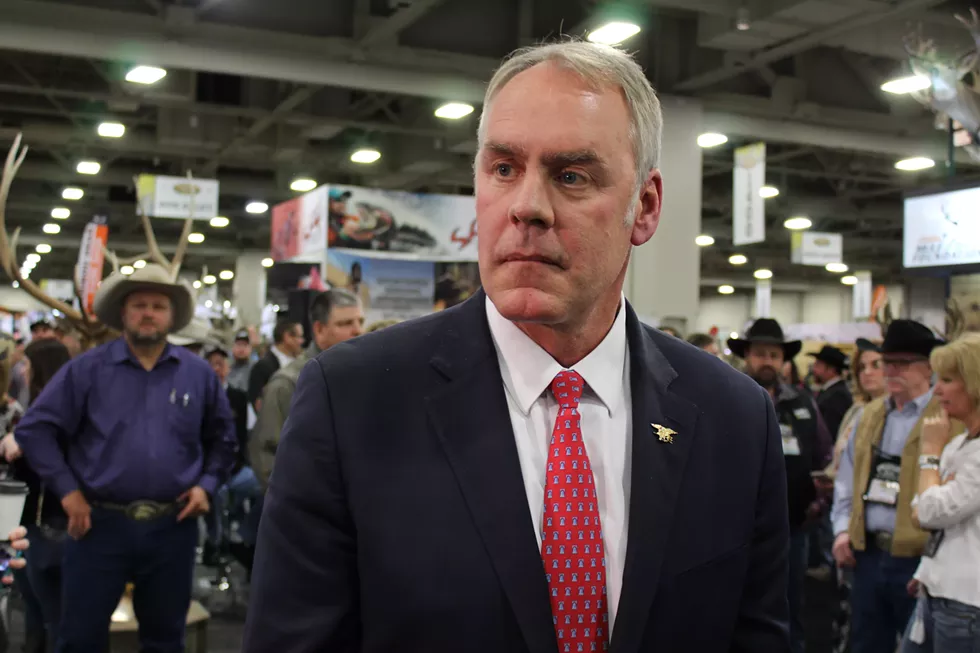 When Interior Secretary Ryan Zinke makes big announcements in Utah, you'd better listen.
At least, that was the case in December, when he and President Donald Trump stopped by to say they were lopping off millions of acres from two Utah national monuments.
But unless you're a mule deer hunter, you probably were less interested in his visit on Friday, when he signed a secretarial order that puts resources toward mule deer conservation.
When Zinke met with media immediately afterward, however, the conversation quickly turned to Bears Ears National Monument and the controversial decision to downsize it. Despite protesters demanding earlier in the day he reverse that decision, Zinke was resolute.
"Here's what you don't hear," he said. "There wasn't one square inch removed from any federal protection." Zinke argued that reverting the land from national monument status to national forest or wilderness allows for traditional "multi-use" without eroding protections.
"I've heard nefarious arguments about mining and oil and gas," he said. "It's false. I know of no oil and gas assets in the Bears Ears. I know of no permit put forward for uranium. Previous uranium mines are in the wilderness side, so once you look at the Wilderness Act, you go, 'You cannot mine in wilderness.'
"Personally, I'd like to see mountain bikes being incorporated into some areas of the wilderness," he added. "I think that's reasonable."
When public land is mined or drilled, Zinke claims he will hold industry accountable for their reclamation plans.
"That is what Teddy Roosevelt, and the American experience of conservation ethic, which is use science, best science, best practices, greatest term, greatest good," he said.
Enrique Limón
Zinke signs Secretarial Order No. 3362 during the Western Hunting & Conservation Expo at the Salt Palace on Friday, Feb. 9.
Zinke reiterated the sentiment that the push to shrink Bears Ears was a local request. Although it's true that many San Juan County residents didn't support the monument, many others in Bluff and on the Navajo reservation did and petitioned the government for a national monument initially.
"There is no other president that would have done what he did," Zinke said of his boss, President Donald Trump. "The president's charter is listen to the local voice. Listen to the great state of Montana—or Utah in this case—because it matters."
Zinke also called protesters "angry people" and dismissed Patagonia Inc., one of many outdoor equipment companies that lambasted the reduction of Bears Ears, by labeling the company "Patagonia made in China."
The Center for Western Priorities released a statement panning Zinke for "greenwashing" his past public land decisions.
"There's no doubt that planning for wildlife migration is important," the statement read. "But there is not a single Interior Secretary in U.S. history who has inflicted more damage to America's great conservation legacy than Ryan Zinke."
The Center for Western Priorities accused Zinke and the Interior of "gutting park and wildlife budgets, undertaken the largest elimination of public land protections in our nation's history, and undermined the most reasonable safeguards protecting wildlife from the impacts of oil drilling."
A true Trump administration appointee, Zinke referred to such attacks as "fake news."
The press conference was held at the Salt Palace Convention Center during the Western Conservation and Hunting Expo. Outdoorsmen stood by in camouflage-patterned clothing near mounted deer head decor.
Zinke said the federal government identified important deer corridors and is looking to work with states and other stakeholders to connect the corridors, manage the watersheds and link trail systems.