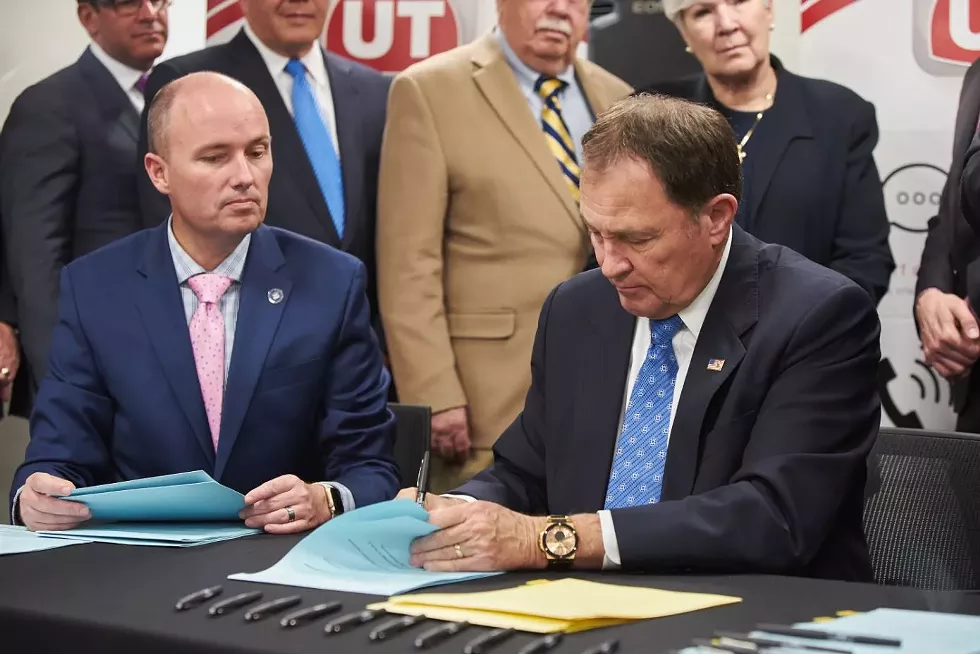 Leaning heavily on basketball metaphors in a Tuesday afternoon press conference, Gov. Gary Herbert said state lawmakers and residents have to "put [on] a full court press" and work together in a "team effort" to decrease the state's soaring rates of youth suicide.
"We have a responsibility to do something," he told the crowd gathered in the University Neuropsychiatric Institute crisis center training room, where Herbert signed ceremonial copies of eight suicide prevention and mental health bills. All formally signed in March, the bills attempt to combat Utah's increasing rates of youth suicide by expanding the scope of suicide-prevention programs in schools, authorizing grants for school counselors and social workers and allowing people to contribute to the Governor's Suicide Prevention Fund, among other provisions.
Herbert announced the formation of a suicide prevention task force in January and asked its members to come up with possible solutions for the scourge of teen suicides sweeping the state. According to the Utah Department of Health, there was a more than 140 percent increase from 2011-2015 in suicides of youths between the ages of 10-17, compared to a national increase of 23.5 percent over the same timeframe.
Referring to the faith leaders, lawmakers, and members of the business and LGBTQ communities on the task force, Kim Myers, suicide prevention coordinator for the Utah Department of Human Services, said the group has a chance to change the culture surrounding mental health, which she called, "one of the most critical pieces of the strategy."
"We have a broad range of leaders who are telling you that it's OK to not be OK, but we're here to support you through that," Myers said.
A memo dated Feb. 20 and addressed to Herbert from Lieutenant Governor Spencer J. Cox and Rep. Steve Eliason, R-Sandy, notes that the task force met four times over a four-week period and identified three ways to address youth suicide rates: improving crisis response, reducing risk factors and enhancing protective factors. The task force recommended eight total programs toward those ends, noting that "all of these efforts will be best supported if we can improve the data we are collecting about risk factors, if we provide better institutional support for the Utah Suicide Prevention Coalition and if we can create a mechanism for funding better public-private partnership."
At Tuesday's signing Herbert stressed the "TEAM" mentality—"Together Everyone Achieves More"—in addressing the rising youth suicide rate, specifically mentioning the legislature appropriating money to suicide prevention programs and the use of strategic partnerships in combating the issue. "No longer shall we be blissfully ignorant about this significant problem that we have in our midst," he said.
After the signing, Troy Williams, executive director of the LGBTQ rights group Equality Utah, said the eight bills are only Phase 1 of the task force looking at a "very broad perspective" of addressing youth suicide. "This is just the beginning of the dialogue for us," Williams said. Next up is looking at suicide prevention of high-risk groups like veterans, Native Americans and LGBTQ youth. "We have to find ways of creating a culture of belonging," he continued.
Of the 150 Utah youths who committed suicide from 2011-2015, authorities collected information on sexual orientation for 40 of the 10-to-17-year-olds. Of those, six were identified as sexual minorities. "I think that data is so incomplete," Williams said of those numbers, adding that it would be helpful if the state were to include questions about students' sexual and gender identities on the Student Health and Risk Prevention Statewide survey administered every two years to public and some charter school students in grades 6, 8, 10 and 12.
Elder Ronald A. Rasband, member of the Church of Jesus Christ of Latter-day Saints' Quorum of the Twelve Apostles and the suicide prevention task force, told City Weekly the LDS Church donated $150,000 to the Governor's Suicide Prevention Fund, "without any strings attached."
Some LGBTQ youth have had difficulty reconciling their faith and place in the LDS Church with their sexual or gender identity, and the religion's leaders have not supported same-sex marriage. "We love everyone," Rasband said. "It's all based on our love of the Heavenly Father's Children." The voices rising up against the youth suicide rates sweeping the state, he added, are "stronger as a chorus."