Page 9 of 10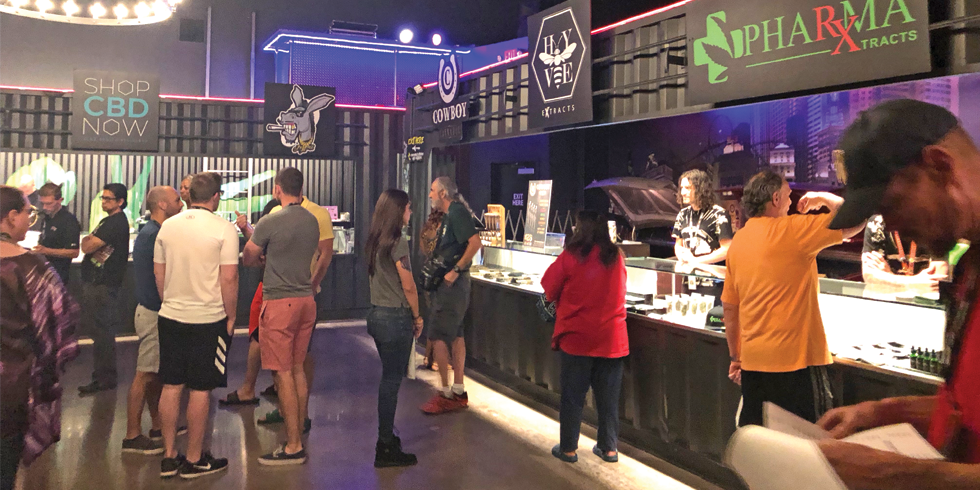 Pipedream
Weighing Utah's chances of legalizing recreational marijuana.
By Kelan Lyons
The '90s hip-hop can be heard in the bathrooms, lobby and cannabis museum at Acres Dispensary. It crescendos inside the narrow simulated drug tunnel, bouncing off the concrete walls until customers emerge in the Underground Marijuana Farmers Market, which bills itself as the only legal emporium of its kind in the country. A graffiti-tagged brick wall, decadent chandeliers and Cadillac trunks packed with marijuana bags fill out the 3,000-square-foot Las Vegas space.
Frequent customer Allyssa Sampson came to the market so she could pick up more vape pens. It's her fourth or fifth time in the clubby, art-filled marketplace. "All the people that grow, they're not just trying to grow it to sell it," she says of the artisanal marijuana growers—more artists than drug dealers—tinkering with strains so they can sell a better product. Sampson, who will soon move back to her home state of Georgia, is trying to enjoy the high-quality herb while she's still in Nevada. "I can still get it, just not as good of a quality," she says of the Peach State, where recreational marijuana is still illegal.
"This place is like a party," Michael Slider says, raising his voice above a rap song as he sits in the market's lounge section. Michael and his wife Karen live in Los Angeles, but they frequently visit recreational cannabis shops in Washington state and Nevada. "I'm in pain all the time," Karen says, explaining that she used to take opiates and painkillers for her back before she started smoking marijuana. "I take a couple hits, and I'm happy," she says.
Dispensaries have been selling recreational marijuana in Nevada since July 1, 2017. The Underground Marijuana Farmers Market opened, appropriately enough, this past April 20. Kevin Forde, director of marketing and sales at Acres, says pre-rolled joints, concentrates, vape cartridges and edibles are for sale, with vendors changing every week. There's even a museum that details public and governmental perceptions on cannabis and hemp throughout American history.
According to numbers provided by Forde, 113 people from the greater Salt Lake City area made the trek to Vegas between June and mid-July to check out the market.
Although mere miles from the Utah border, Nevada feels like it's a planet away. Farmers markets are ubiquitous here, but it's hard to imagine one solely dedicated to selling cannabis products. And yet, residents are just a few months from deciding whether Utah will offer medical cannabis to the sick and suffering, with two-thirds of voters in favor of the ballot initiative.
Given that medical cannabis is a very real possibility in Utah, could recreational marijuana ever exist here, too? Does the legalization of medical marijuana ever lead to recreational?
"It absolutely does," Andrew Jolly, president of the Nevada Dispensary Association, says. "Sometimes that transition is very quick, and other times it can take many years."
Nevada legalized medical marijuana in 2000, but didn't commercialize it until 2014, meaning people had to grow it in their homes until then. Utahns, meanwhile, are considering legalizing and commercializing medical cannabis at the same time, Jolly says, which could show citizens and legislators alike the benefits of broader legalization. "It shows people that the benefits of marijuana in general outweigh the negatives," he says. "People start to take note of the taxes generated from medical marijuana, they start to take note that opiate overdoses drop in states with medical marijuana, and people start to understand there isn't much of a difference between a medical marijuana patient and a recreational user, as people often assume."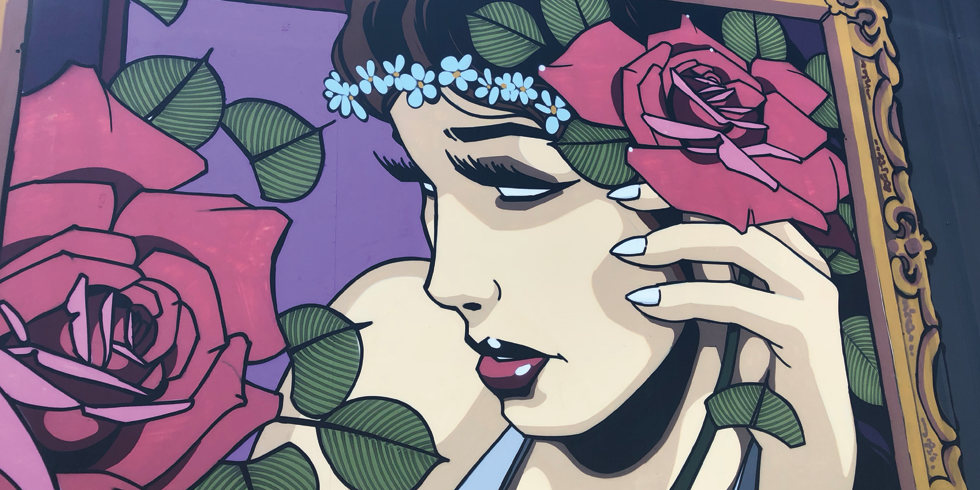 Kelan Lyons
Left: Inside the Underground Marijuana Farmers Market. Above: Art outside Las Vegas' Acres Cannabis dispensary.
Forde says medical-marijuana legalization shows state agencies how financially lucrative it can be, which products sell and how the market reacts. This, he says, sets up states to be a little more comfortable with legalizing recreational cannabis.
In 2012, Washington state voters approved creating a regulated marketplace for legal cannabis. Medical marijuana had been legal prior to that, according to Aaron Pickus, spokesperson for the Washington CannaBusiness Association, but there was no real regulatory structure. Pickus says there were concerns statewide about a regulated system (recreational) operating alongside an unregulated one (medical), so in 2015 lawmakers passed legislation that combined medical marijuana under the same regulatory umbrella of the recreational marketplace.
Although medical technically came first in Washington state, Pickus says, it was the legalization of recreational that led to the regulatory framework that exists in both industries in the state today.
"I don't think that's the only path," Pickus says of the medical-to-recreational legalization trajectory. "I think it's really specific to each state."
Currently, nine states and Washington, D.C., have legalized recreational marijuana. But beforehand, each of those states first legalized its medical counterpart, and they all—except Vermont—have expanded to recreational cannabis through a ballot initiative, rather than through state legislatures.
Which brings us to The Church of Jesus Christ of Latter-day Saints. Back in August 1915, the church banned its members from using cannabis. Two months later, the state did the same, leaving some scholars to question whether the prohibitions were connected. Fast forward to October 2016, when the First Presidency sent letters to church members and leaders in Arizona, California and Nevada, asking them to oppose recreational marijuana. The letter states that the "dangers of marijuana to public health and safety are well documented," specifically mentioning potential harm to children's brain development and claiming that the accessibility of recreational marijuana is a "danger to children."
Matthew Burbank, associate professor in the Department of Political Science at the University of Utah, says this state is different from others because marijuana legalization has strong, organized opposition. Although he acknowledges the LDS church hasn't explicitly come out against the upcoming medical-cannabis ballot initiative—"We're opposed to this, but we don't want to come out and say we're opposed to this," Burbank says, rewording the church's April statement commending the Utah Medical Association for "cautioning that the proposed Utah marijuana initiative would compromise the health and safety of Utah communities"—Burbank suggests the reason why state lawmakers haven't already passed medical cannabis legislation is because, "these people looked at the signals the LDS church was sending, and said, 'We're not really interested in this at all. This is not something we want to see happen.'"
That said, Burbank is surprised by a recent Salt Lake Tribune-Hinckley Institute of Politics poll in which 61 percent of respondents said the LDS church's stance on the medical cannabis initiative makes no difference in their viewpoint.
Burbank says a perceived path from medical to recreational marijuana seems to be what opponents of the initiative are afraid of and are organizing against. (A proponent of the initiative has said the idea of medical cannabis leading to recreational marijuana "has no basis in truth.") It's possible that November's ballot initiative could lead at some point to one for recreational marijuana, Burbank says, but he doesn't see it as a likely path because of how hard it is to get an initiative on the ballot and because he thinks Utahns aren't likely to be as supportive of recreational legalization as they are of medical.
"I mean, if people really want to do this," he adds, "we're right next to Las Vegas."